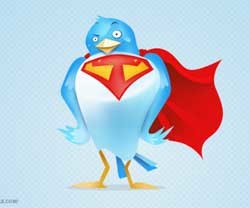 You can't build a business overnight but social media is a good place to start.
Social media is the home for online marketing. According to Social Media Examiner 97% of marketers said they were participating in social media marketing.
Social media gives you the ability to reach out to your customers and your target audience all day every day. It's indeed a cheap and effective way to promote your business.
This visual is a summary of social media for marketers and businesses (Source: Lightspandigital).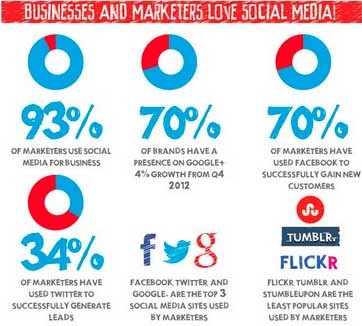 There are quite a few reasons as to why social media for businesses is so powerful:
Benefits Your Brand
Social Media will allow your business to establish a stronger brand and by being active on these social media sites you're giving users a way to find you easily.
But not only that, using your social accounts you introduce your brand to new people, making it more visible and recognizable to potential customers.
Benefits a Connection with your Audience
As I've just mentioned, it provides you with a new resource to learn and expand your audience.
You will also be able to reply quickly to your customers, evaluate their behaviour on social media, and discover what content really engages with your audience and what keeps them interested.
On your social networks, encourage your customers to give you feedback, it's the perfect opportunity for you to hear what your customers have to say, so take advantage of this.
Use these platforms to spread more information about your business and what you can offer your potential customers.
Awareness of your Business
Social media is a perfect opportunity for free advertisement.
Users are looking for content that will interest them and that they can share. As a business, you want to increase traffic to increase your leads and conversions.
On your social media sites you are able to post and share your chosen content about your business, services and products. Your followers and customers are able to share and talk about your company to their friends and followers and the cycle continues.
So make sure that your websites, blogs and newsletters have the social ''share" button so that users can easily post your content on their social media accounts.
Learning Opportunity
On social sites you are given the opportunity to compare and contrast with what your competitors are doing.
You'll live and you'll learn on social media, you'll find what's working for you while also developing customer loyalty. It's a great chance for your business to be exposed and increase traffic to your site. However, weekly or daily commitment (depending on the industry) is necessary in order to be successful and get result.
If you haven't joined social media sites yet you are already handing customers to your competition, as you are giving them more opportunities to interact with your audience.
You can even go one step further and allow your audience to access all your social media sites in one place. With the help of 3D Issue Hubs you can reach your audience everywhere and on all devices. Hubs updates automatically when your content is added to your online sources such as your blogs, Facebook, Twitter, YouTube and all your other social media sites.
Create a hub here.
By Georgia Keys