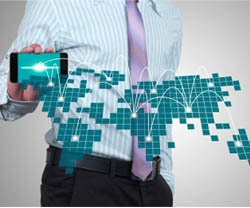 Content is one of those entities that swirls all around us like invisible particles each and every day and sometimes we barely even notice; that is how much of the norm within our daily lives it has become. Content surrounds our every step, our every waking moment, from when you switch on the radio in the morning, lift a newspaper, walk down the street or log online, content is at every turn.
Today more than ever due to the capabilities and selection of connected devices we enjoy, content has evolved and grown in tandem with the growth and accessibility of the internet itself.
The capabilities the internet has endowed us with enables content to take many guises, no more are we confined to paper and text, the possibilities are limitless. Content has advanced from simple printed messages to media rich properties that inform and entertain us at the same time. Images, audio and particularly video content grow in popularity and availability with each passing day. It stands to reason that content containing video and audio will not only help convey the message in an entirely more entertaining and enthralling fashion but that it will likely resonate with the consumer as they are much more likely to react and remember this type of content as it will live on in their minds long after most other content has faded into obscurity.
Put yourself in the consumers shoes, they (and I include myself in this), are inundated with content and messages at every turn, every minute, every day. It makes perfect sense to make the content as quick and as easily digestible as possible, a well-blended mix of different content types helps keep things fresh and enables you to engage a broader audience, remember the seven second rule about capturing the consumer's attention? It could have been written for this very scenario!
Sorting the stones from the gems
The accessibility and low barriers to content production and distribution leads to an overload of low quality content that floods the internet, this is where, to get noticed, you have to get creative. You have to earn and maintain the attention of the consumer by making your content stand out and most of all appeal to the consumer, make them sit up and take notice. Be them, ask yourself what you would want to see and hear if you were in their shoes, even ask yourself what would turn you off, what would you immediately surf away from?
It is often said that 'content is king', and while this is undoubtedly true, perhaps a different slant on it would be that the real king is the bottom line of your business, attention being the queen and content being somewhere in-between. The content you provide should ideally be aimed at a specific segment with needs that pertain to the content that you provide, it should also be available in places that they are likely to see and hear it, or at the very least somewhere that people they know will.
Analyse and analyse again
A sure fire way to measure how your content is being received is the use of analytics, by using this invaluable resource you can ascertain what it is that really resonates with the consumer, what it is they spend time reading and digesting? What it is that is the most popular? Once you have these statistics you can concentrate your efforts on the content that resonates the most, are people sharing your content? What gets shared the most? You can also divide your content into the most suitable demographic, what works with younger viewers or older viewers for example. It is wise for companies to monitor and engage regularly with their existing consumers, see what type of content they find interesting and engaging…and what they don't, then act upon your findings.

The future is mobile
As I have covered in these blogs before, the future of content has to be mobile-centric, it is estimated that by the end of 2012 there was 2.1 billion mobile web active mobile-broadband subscriptions in the world. That is 29.5 percent of the global population accessing the web from their mobile phones. It is estimated by 2014 mobile internet should take over desktop internet usage. Couple this with an average increase of 40% per year for mobile broadband subscriptions over the last three years and you start to get a clearer picture of the colossus in our midst.
According to Forbes, "87% of connected devices sales by 2017 will be tablets and smartphones."
With 40% of web traffic now coming from mobile devices, your content must also be responsive, it must be able to be automatically lay out to suit the resolution of the device that the audience choose to consume the content on. Platforms such as 3D Issue Hub supply such a responsive resolution for your marketing content to be viewed across any platform. The figures all indicate it, one look around you on a busy street with people on their smartphones at every turn will confirm it, the world is mobile, your content should be as well.
Try 3D Issue Hub today for free.