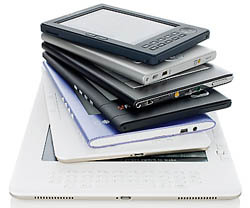 Over the last 10 years there has been a revolution in the publishing industry, with a high volume of people turning away from hard copies of book to digital publication. With this increase of people turning to digital publications, there has been a massive increase in the amount of providers that is offering devices to view e-books on.
When creating an e-book, one of the main points to consider is what format I should create my e-book in and what devices is it compatible with?
I shall go over the top three formats being used by publishers of e-books to reach their target audience;
1.  The epub format (this is short for electronic publication). This is the main e-book format available. This type of format has gained in popularity due to the fact that it is designed for optimal e-book reading based on individual display devices. Examples of devices that support the epub format include; Apples iOS devices such as the iphone, ipod, ipod Touch and ipad, the Barnes and Noble Nook, the Sony Reader, Moon+Reader and WordPlayer on Android, and Adobe Digital Editions. Because the epub format is not supported by Kindle, the 3D Issue software also uses the file format .mobi to support Kindle (see Mobipocket below).

2.   The Mobipocket (.mobi). The Mobipocket e-book format is based on the Open ebook standard using XHTML. This e-book format is supported on many mobile devices including Windows, Symbian, Blackberry and Palm operating systems but does not support Android devices.
3.  The ereader. This is an e-book format which uses the pdb format used by many Palm Digital Media applications. Versions are available for iphone, Android, blackberry and Windows Mobile. This format is not used by Barnes and Noble in their Nook, which accounts for a high percentage of the e-reader market.
Make sure when you are creating an e-book, the software you are using will be supported on the devices your target audience is using. For me the best format is the epub because of the wide range of devices it is supported on.
Image thanks to the nice folks here.