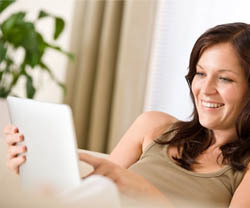 It was only ever going to be a matter of time, and now, Flipboard have offered its users the ability to create and curate their own magazines using real time products, essentially making a personalized catalog. The magazine style app, which was founded by Mike McCue and Evan Doll in January 2010 and launched in July of the same year; was originally intended to coincide and work upon the recently released iPad. The software received mainly positive feedback from consumers and Apple themselves rated the software highly, naming the application Apple's iPad App of the Year in 2010.
The app rapidly gained followers, with the last count standing at an impressive 90 million, it's worth pointing out that this figure is based on how many people have actually tried the platform but are not necessarily regular users. Flipboard initially dubbed itself as a 'social magazine', due to its abilities to curate your social media newsfeeds and present them in an aesthetically pleasing flip style magazine boasting some slick typography.
The intuitive platforms resounding success resulted in the app being updated to provide support first for iPhone and iPod Touch, and later across other platforms including Android, Windows 8, Blackberry 10 and iOS. In May of this year the company launched Flipboard 2.0 with the stand out feature being the introduction of the ability to hand pick the content you want to appear in your magazine. Version 2.0 of Flipboard, said CEO Mike McCue, "allows anyone to effectively build their own magazine on Flipboard. They can pull together content under any topic they're passionate about–[and share] other articles, photos, videos, music–pretty much anything."
This introduction of this facility led on to the inevitable consumer and ecommerce inspired update that was launched last week that incorporated all these facets into their latest offering. Flipboard now endows the user with the ability to create and curate their own catalogs with products they independently source. Just as users could utilize Flipboard to keep up with their social feeds or stay informed of political or tech news, in the same vein consumers will now have the option of browsing through a whole category of shopping magazines – much the same as the traditional product catalog, except for the digital era.
https://www.youtube.com/watch?v=WeeLmQI5EcM
The idea of personalized publishing is something that has been circumventing the content arena for some time now, Flipboard are the latest company to fully recognise the undoubted potential attributed to this particular area. This latest update to the software is one which seemed destined for the application as the platform seemed a perfect host for such a transition. Ideally by adopting this approach; Flipboard will be hoping the move appeals to readers, buyers and advertisers alike. CEO Mike McCue said that the ability to add products to a magazine is one of the most-requested features since the company launched user-created collections earlier this year.
Personalized publishing
In effect, what readers and brands will now be able to do is create their own catalog with all their, (in the readers case), favorite products complete with prices and other information pertaining to the products. Also part of the new features is Flipboard's new "flip.it" bookmarklet that enables users to 'flip' products into their personalized magazine or catalog form almost any ecommerce site. The shopping magazine works in the same way as it does for news. Users, publishers and brands can assemble products from around the web with a simple click of the button, instantly creating their own digital shopping magazine in the same style as existing Flipboard publications which have proven popular since the company's inception.
"Anyone can curate a catalog or add products to a magazine," Flipboard spokesperson Christel van der Boom told VentureBeat. "Shopping on Flipboard and the ability to curate products have been highly requested by our users. With these new additions, we want to create an even more vibrant ecosystem for content and make Flipboard a place for everything you love."
Already Flipboard is drawing comparisons to the curated-commerce model implemented by Pinterest, who themselves introduced product pins earlier this year. These 'pins' included pricing information and other information about the product that users would then save using the service, making it easier for them to actually buy the product. CEO Mike McCue refuted the idea they were trying to duplicate anything on the market when he said, "We're not trying to build Pinterest — we're trying to build the world's best personal magazine." If lots of product listings start to show up in the magazines that users create using the app — there are more than 4.5 million of them so far — we'll know that the idea makes sense to the personal-magazine editors and readers who make up the Flipboard community.

The way forward?
This natural progression for Flipboard has reinforced the long held belief that personalized publishing was indeed maybe a niche market, but a market nonetheless and one with untapped potential that has been waiting for the right platforms to express itself. Platforms such as Flipboard, 3D Issue Hub and Pinterest encompass this belief within the abilities they hold within their platforms.
Similar to a lot of things in different walks of life, Flipboard's foray into this area is driven by profit, and let's face it, we all need money so there is no shame in that but delve a little deeper and the impetus for Flipboard becomes clearer. Pinterest is already driving large volumes of traffic to retail sites, and, this is where it gets interesting, in some cases Pinterest has been driving more traffic than Facebook. According to SimilarWeb, an Israeli analytics firm, 58 percent of social traffic to Martha Stewart's website came from Pinterest in the last six months, compared to 23 percent from Facebook. The Pinterest traffic amounted to 6.5% of the 5 million visits Martha receives every month.
These stats speak for themselves; the opportunities for monetization are varied and plentiful, for example Flipboard and similar platforms could charge affiliate fees for sales directly related to their catalog, they could also find themselves in a strong position when encouraging brands to advertise on Flipboard to drive readers to their catalog. Van der Boom touched on this matter, "When brands curate a catalog, they'll want to promote them with full page ads in publisher sections to drive readers to it (and we get a cut)," van der Boom said. "For instance, Banana Republic's ads are running in [Flipboard] publications like Elle and Vanity Fair; when you tap on them, you get taken to one of their catalogs."
While this form of content curation is still in its infancy, it has proven that there is a market for this model, the ultimate goal being that by using content curation in this way will draw more eyes to their site, draw more eyes to the site, the more brands will want to advertise and publish in the domain driving up prices for much coveted space.
As mentioned, this approach is still very much in the early stages but tweaked in the right places with possible adjustments to pricing strategies and it could be a win-win situation for all involved.
You could even have your very own catalog for your Christmas shopping!
Try 3D Issue Hub for free today.