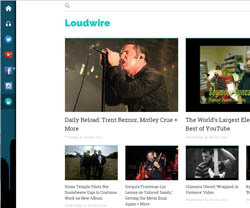 Gartner recently released a report entitled "Content Marketing Pushes Digital Marketers to Adopt Newsroom Habit".  The reports speak of the need for content marketers to need to use real time response to their customer / readers in their approach. They are responding to the digital audiences obsession with  mobile aggregation.
All companies have dynamic content that they need to promote.  There are two types of content formats that publishers market. For print publications such as brochures, catalogs, reports, magazines etc..  content marketers can use products like 3D Issue that can automatically convert their press ready Publications into digital magazines.
But what about that other content, news. That content that is so dynamic that it can't be put into PDFs as the content changes that quickly.  How can you create a digital edition from this content without tying up resources.  3D Issue Hubs is the solution.
Today content markets use tools like blogs and CMS to promote their news content to their audience.  As their audience is increasing mobile they have a problem.  Their legacy systems are not optimized to port their content to the smaller resolutions that their audience are accessing their content on.
3D Issue Hubs is the solution.  All you have to do is tell Hubs where you content is and it will take care of the rest.  As Hubs uses responsive / liquid layout technology it can automatically shape your content around each of your individuals reader's device of choice, so there is no disruptions to their consumption of your content.
To create a 3D Issue Hubs publication.  Simply follow these steps:
1.       Create an account
Go to www.3dissue.com/hubs.html  to join.  Once you have signed up you will be sent an email verification.  Once this is complete you can login to access the dashboard and start creating your magazine.
2.        Add the location of your content
Tell 3D Issue Hubs where your content is located. Enter in the URL of your feed, blog or website. Initially it will look for an feed.  If you don't have a feed don't worry, Hubs will look at the URL that you have entered and then it will look for articles through the links on that page.
3.       Create your magazine
Once you have entered all the sources that you want to use, click "Create" and your magazine will be built in a matter of seconds.  You will instantly be taken to a preview page where you can test your magazine's responsiveness by changing the device viewer to see, for example, how it would look on a smartphone.  You will also be provided with a link to your live publication.
4.       Customize and Share
There is a lot more power behind this.  Click on the customize option and change all the configuration and design settings for your publication.  Change fonts, colors, even add front covers and galleries.  Click on the share option if you want to embed the publication on your website or push it to your FaceBook, Twitter or Google plus pages.
5.       Finally…
Tell us what you think. We like to build our products around our customer's needs and like to build solutions to problems they are having.
Enjoy!