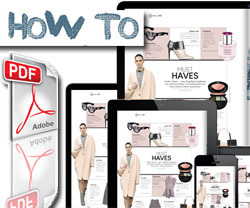 In order to attract consumers online, marketers and publishers alike have had to rethink their strategy to encompass a world dominated by online activity. Tried and tested methods were no longer viable in this newly connected world, static text had been replaced by interactive media, images could now be adjusted to include audio, video, which due to further advancement in connection speeds and superior devices is widely expected to have a huge impact in the coming year. All the senses of the consumer could now be engaged; the consumer would come to expect the highest quality, relevant content on a consistent basis.
Read the 7 Best Practices to Creating a Flipbook here Flipbooks have played a pivotal role in this digital revolution; they have breathed new life into the static PDFs of their printed relations, their use of interactive features allied with a larger reach, low cost production and the capabilities of tools in the vein of analytical analysis for all parts of your flipbook make these a marketers dream. Below are some of the many features available through the use of an html5 empowered flipbook tailored towards your content.
• HTML5 capabilities for mobile devices
• Media-rich Publications encompassing the power of video and audio content
• Branding throughout the publications
• Social integration and sharing options
• Fully Customizable Output
• Searchable and Zoomable Content
• The ability to reach your audience on any device
• SEO Friendly content
Read how to assemble Flipbook for Marketing Campaigns here This consistent expectation of quality content by the consumer has made the marketers job all the more challenging. The printed word has been with us for a lot longer than its online cousin, marketers have been using printed media for generations to boost their company's visibility. Literature such as mailshots, magazines, newspapers, brochures and media packs has long been the marketer's friend. Most company's and businesses have these resources readily available through the PDFs they would have used in the production of said publications.
Businesses are only too aware of the potential eyeballs that the internet commands, they know they have to establish and maintain an online presence in order to continue to grow their business, it is with this in mind that today's blog will center around creating an online flipbook to house and complement said content.
Flipbooks offer many advantages to the online marketer and the company wishing to get the best from their content, the process of setting up your very own flipbook couldn't be simpler, simply download the trial from the above form and you will have a flipbook that will transform and promote your content in no time at all.