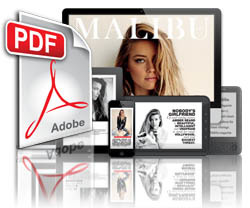 The digital revolution has well and truly ensconced the majority of lives across the planet; there are very few elements of day to day life that haven't been touched by the advancements in communication technology. If you happen to have just thawed out from suspend animation and are unaware of the digital revolution that has firmly ensconced our planet, one look around a busy street or public transport tells you everything you need to know. The world has gone digital.
Our information digestion habits have changed in line with the evolution of communication itself, just about anything you wish to find information in is available online, tablets and specifically smartphones have made this information freely available at any time, at any place. Digital publications offer many advantages to the publisher. The first place the majority of people will turn in their quest for information or services is their smartphone or tablet, in today's world not having your company or businesses information online is akin to sending crucial information in the form of carved tablets, while being transported by horse and cart!
Your information has to be online and freely available, on any device, at any time.
Most publications are assembled through the use of PDFs, printed literature, whether it is for brochures, books or regular publications, all use PDFs. With this in mind, we will have a look at how to convert your PDFs to online content in a few easy steps.
1. Ensure your PDFs are ready for importing into the 3D Issue software.
Ensure you have your PDFs set up with interactive publications in mind. Audio and video have been shown to be major players in creating interest and interaction within digital publications, have your PDFs set up to utilize these advantageous features within the software.

2. Download the 3D Issue trial
"Try before you buy" by downloading the 14 day Free Trial, it is a free, fully functional which means you can use the full software for a month, you can upload to 3D Issue test server or to your own site. This is the perfect way to see the advantages of converting PDFs to online magazine.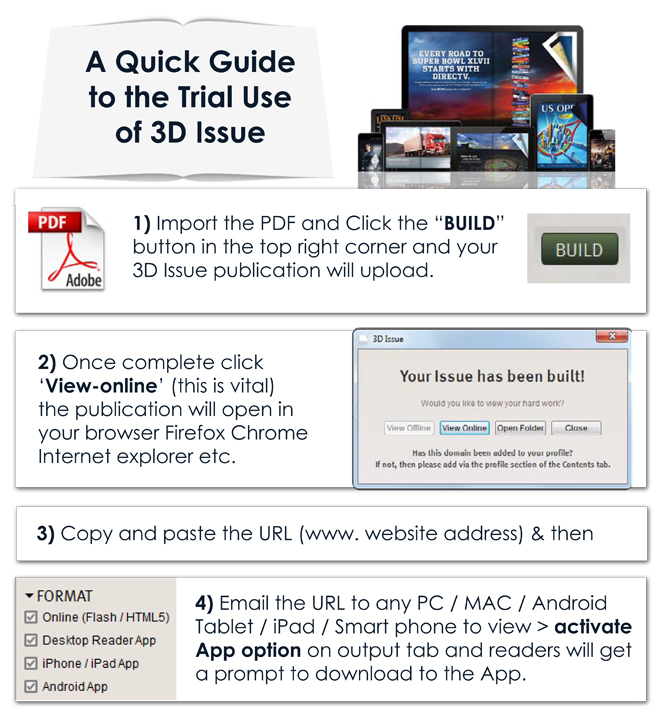 See the below tutorial for more information on setting up your PDFs for digital conversion
https://www.youtube.com/watch?v=Y9McNSkiKhI
3. Set up
Set up your software adding your logo, domains, SEO and FTP information.
4. Editing your publication
Now you are ready to start editing you publication to make all the necessary changes to get your desired results. You have the Content, Design and Output tabs to aid you in creating stunning, interactive flip books which will drive engagement with the consumer. See below for information on adding video to your publciations.
https://www.youtube.com/watch?v=JPeckUHprJY
5. Convert your PDFs
Import your PDFs, add interactivity, select which devices you want your online magazine to be viewed on, and click "build." You now have converted your PDF to online magazine.
The advantages for creating digital publications are many and substantial, is it time you brought your information and content to the online arena?
You can find more resources on setting up digital magazines, brochures and literature through our resource section and our video tutorials or by attending our twice daily webinar.
Try the free, fully functional trial of 3D Issue today.