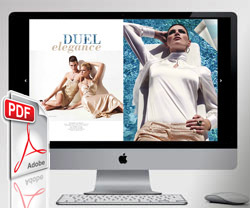 Have you ever wondered how to go about transforming your PDFs from static, lifeless documents to an HTML5 empowered publication complete with interactive features and all the functionality of an online magazine?
Well in today's blog that is exactly what we aim to help you to do, we hope you enjoy it.
Apple Mac's have long been synonymous with desktop publishing, design and layout. I'd wager that even now three decades after their inception, despite the advancements in the competition, Apple Macs will still be found in design studios and production departments in newspapers and magazines houses around the world such is their influence.
We here at 3D Issue have and continue to accommodate Mac users as well as users of all operating systems. Nowadays you can create publications on most systems but it can't be forgotten that it was the Mac that pioneered this way of thinking. The Mac truly was a designers dream and to many it still is, sure, the devices we now have are gaining the lion's share of the market in comparison to the desktop PC, (recent surveys have shown that PC's are showing a steady decline in sales in comparison with their mobile counterparts), but it should never be forgotten the profound influence that the Mac had on several industries, desktop publishing and design in particular owe a lot to the Mac and its capabilities at the time.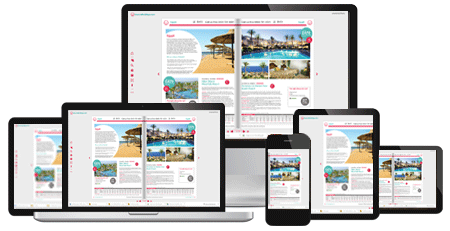 Online publications offer so much variety, versatility and options for engagement and entertainment for the consumer. They also offer the publisher numerous advantages. The sheer volume of the world's population that is now online through connected devices demands that you; and your content are available online. Here in a few short steps we will explain just how you can do just that.
Read more about how to Create Magazine Interactivity with the 3D Issue Trial here.
1. Ensure your PDFs are ready for importing into the 3D Issue software.
Ensure you have your PDFs set up with interactive publications in mind. Audio and video have been shown to be major players in creating interest and interaction within digital publications, have your PDFs set up to utilize these advantageous features within the software.
2. Download the 3D Issue trial
"Try before you buy" by downloading the 14 day Free Trial, it is a free, fully functional which means you can use the full software for a month, you can upload to 3D Issue test server or to your own site. This is the perfect way to see the advantages of converting PDFs to online magazine.
See the below video for more information on setting up your PDFs for digital conversion
3. Set up
Set up your software adding your logo, domains, SEO and FTP information.

4. Editing your publication
Now you are ready to start editing you publication to make all the necessary changes to get your desired results. You have the Content, Design and Output tabs to aid you in creating stunning, interactive flip books which will drive engagement with the consumer. See below for information on adding video to your publications.
5. Convert your PDFs
Import your PDFs, add interactivity, select which devices you want your online magazine to be viewed on, and click "build." You now have converted your PDF to online magazine. You can see further examples of online publications created using 3D issue here.
It's time to get your content online.