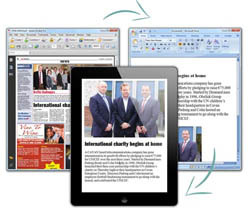 Content is king!
How many times have we heard that statement over the years? There is good reason we hear this with such regularity, it is first and foremost true and as we all know content is the driving force behind the internet, it is how you will be found and ultimately how you will be judged. Your content is your voice in the online arena; high quality content delivered frequently speaks volumes for your company and crucially, keeps you fresh in the consumers mind. Frequent delivery of premium content will position you as a 'go to' source of information, a source that can be trusted to provide information pertaining to your industry, this, in turn, leads to increased consumer confidence in your organization.
It is with this in mind that we here at 3D Issue are delighted to announce the arrival of some new technology that has got us pretty excited. Our new publishing solution is called Content Flow, Content Flow works by extracting data from PDFs and automatically converting it into perfectly formatted responsive material. This technology opens the doors to untold volumes of content that publishers may have at their disposal but up until now had no way of utilizing without extracting the content from various documents and then reformatting it to suit the mobile screen. Often this was very time consuming and tedious work.
Not anymore!
3D Issue Content Flow is an innovative and disruptive API library that can automatically extract articles in perfect sequential order from PDF documents and then reflow said content into a multitude of different formats such as mobile web applications, XML, HTML, ePub or Kindle formats.
Imagine the possibilities when all of the content you have locked inside formatted documents could be unleashed with 3D Issue Content Flow to form an integral part of your content marketing strategy.

We know that mobile internet usage is forecast to overtake desktop internet usage this year; it is now an essential facet of your marketing strategy to ensure your content available across all devices and specifically mobile. What then, if through the use of 3D Issue Content Flow you could unlock all the brilliant content that you already have but up until now were unable to utilize to its full potential?
Think about it, content drives the internet and is the main thing that consumers seek, it is businesses and companies goal to provide content to attract traffic and drive engagement, so what if this new technology could transform all the content from your PDFs that you would have used to produce your printed publications into mobile ready content? This is akin to an Aladdin's cave of content being made available to publishers; this could be the key to unlocking your personal goldmine of existing content. Publishers the world over will have possible treasure troves of content locked into static PDFs that could benefit from this ground breaking technology.
The possibilities and advantages of this technology is limited by your imagination only, the doors blocking your content from being readily available to mobile internet users are just about to get blown off their hinges.
Why not pay 3D Issue's Content Flow a visit and find out more.