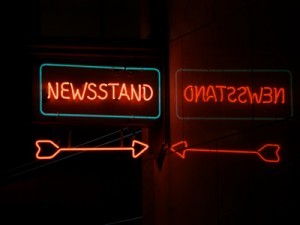 What is a paywall? A paywall is an internet tool that blocks access to a  web page and its content. A reader must pay a small fee to enter the site temporarily, maybe for  24 hours, or subscribe to monthly or annual payments for admission to that website.
With print newspaper and magazine sales on the decline a  variety of sites use paywalls as a method of accumulating revenue for the publication. Paywalls are becoming increasingly popular with a number of on line periodicals such as The Times and The Sunday Times. But how have these paywalls been working out?
One would assume that paywalls were a waste of time and money.Why would one pay for print when you could read The Guardian and the Washington Post on line for free?  Well it seems that people are prepared to pay for quality content.  Francis Sedgemore reveals data confirming that the " Times paywall receipts were about £5.5 million gross up to November." Apparently The Times lost 60,000 print edition sales last year but gained 79,000 new digital subscribers.
On the 28th March 2011 The Times released its paywall model to the world. The Times will offer its readers three differently priced packages for their on line content, ranging for $15 to $35 per month. Apparently this paywall cost $40 – $50 million to create so we will have to wait and see if it was worth while.

Rebekah Brooks, News International New Executive announced on Tuesday that digital subscribers have increased by 60% in the last four months. This is a positive sign that, although slow to take off,  paywalls are certainly becoming part and parcel of how people read and pay for their daily news.

By 3D Issue