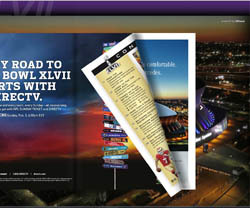 When is a page flip not a page flip? The range of devices, apps and software available for reading at present has allowed a simple gesture to grow and develop. The term 'page flip' is also now synonymous with motions which are entirely different such as even the slide motion.
What is a page flip? It really depends on the point of view. To a tablet user page flip requires the motion of moving the page by touch. Whilst browser or App based publications will be flipped via mouse cursor.
The world's most popular eReader devices generally do not provide a 'page flip' experience at all. See any .epub or .mobi file on an Amazon kindle or B&N nook by way of example. The pages 'morph' from one page to the next – all via the very elegant eInk technology.
Actual page flip applies where epub and mobi are consumed on tablet and mobile devices consider epub via Apple iBooks for example. In November 2012 Apple filed copyright patent D670,713 for their intellectual property rights to the 'Page turn' animation it invented and deployed via iBooks. Details of the patent are here. The illustrations are particularly good….We blogged about this topic in November too check it out in the 3D Issue Archives here.


So e-books started without page flip and later evolved to it? In a way yes, the first browser based publications all contained Page flip animation, often coupled with options for slide. Later as eReader devices appeared on shelves the lack of interface meant pages needed to turn via physical buttons on the side of the device. We are only beginning to see the latest eReader devices emerging with touch screen technology allowing for page flip via the kindle touch etc now backlight.
As page motion evolves the page flip is sure to continue as readers like to engage in a familiar experience with all the advantages of digital publishing be it via Browser, App, epub or mobi!