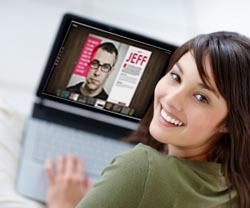 The creation of a stunning page-flip flash magazine and e-Catalog can be achieved by taking on board some top tips recommended by experts. Throughout this blog we will take a look at some relevant points to be considered when creating your online publication – a page flipping magazine or e-Catalog.
– Content is king: One of the most important tips in the creation of your digital magazine or e-Catalog is focusing on your content. No matter what kind of publication you have in mind, a good content is the way to success as digital technology can enhance your content with interactivity. On the other hand, interactivity cannot do magic if your content does not engage your target audience effectively. As a result, it is vital to plan and work on the kind of content that captures the interest of your end readers and use your creativity to add the appropriate digital tools to wow your audience. According to an insightful article by Techcrunch.com content is the future of publishing. So, focus on the content of your magazine or e-Catalog and you will certainly be going in the right direction. For more useful tips on creating a great page-flip flash magazine, check out this blog post.
–  A brilliant software solution equals a brilliant emagazine: Another top tip to be seriously considered is purchasing a software solution that provides you with the necessary tools to put all your plans into practice and does not limit your possibilities to integrate features aimed to achieve your objectives.

3D Issue software allows you to create a wide range of digital publications including e- Catalogs. As more and more business are using e-catalogs to provide the digital audience with a panorama of their offerings – make the most of your e-Catalog adding some noteworthy features as recommended in this blog
Why not creating your own page-flip flash magazine and e-Catalog today? Just download our free trial version and see your own content as a digital publication.
By 3D Issue