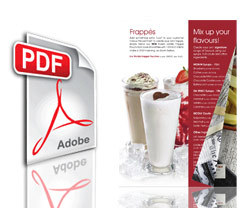 The content you provide as a business informs and educates, the consumer will usually seek out content of this nature when they are experiencing a particular problem or pain point that your product or service is designed to ease or solve. It is therefore vital that the content you provide is easily found online; is available across devices and harnesses the power of interactive features and rich dynamic media through page flip PDFs.
In today's connected world online is, more often than not, the first place the consumer will check for information or answers is the online domain. The World Wide Web is easily the biggest resource we have available to us, the meteoric rise in smartphone and tablet usage globally has meant this resource is more readily available wherever and whenever the consume needs to access it.
The eyes of the world are online
The sheer numbers that are online not only demands your business, and your content, is freely available but also that the content you supply is presented and uses all the advantages that are possible in the online domain, advantages that are simply not possible through ink and paper. One of these advantages is one of the fastest growing sections of the online world, video. In a recent survey by Digital Sherpa it was estimated that a third of all online activity is spent watching video, the same survey also found that the use of videos increase people's understanding of your product or service by 74%.
In order to give your content the chance it deserves to be found, viewed and acted upon you have to utilize any and all options available to you, this must include rich, dynamic media which will encourage interaction with the consumer. There is a mammoth amount of content online, everyone is trying to do the same thing, namely gain the interest of the consumer and showcase their product or service, to do this your content is not only going to have to be of the highest quality and relevance but also packaged in a manner which will ensure you stand out from your peers. Rich media with interactive features is a must in this regards. A picture is worth a thousand words as the saying goes, if we apply this adage to our content how many words for your content in video?
Reuse the PDFs you already have
Any business who has printed promotional material or any other type of printed content will have used PDFs to assemble the printed literature; those very same PDFs can be transformed from static documents into publications harnessing all that is good about successful online content delivery. Your content will for the most part be your only chance of contact with the consumer, it is imperative that the content the consumer comes into touch with leaves the best impression possible, your content and your business may not get a second chance with the same consumer.
I hope you have taken something of value form today's blog and as always if you have anything you would like to add to the conversation please do so in the comments box below, we would love to hear from you.