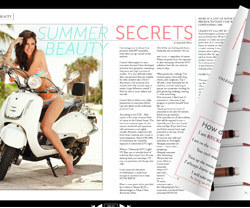 Did you ever sit back and take stock of the changes in the world around you? Did you ever really think about what you now take for granted? The world as we know it, especially in the field of communication has changed, almost beyond recognition since the inception of the internet; suddenly people on the other side of the planet are not so far away, voices and opinions that in the past would have remained silent are now being heard, information and news was reaching our shores from far-away places, all in an instantaneous fashion. The internet had truly arrived.
This new found communication and resource brought with it advantages too numerous to list but advantages there were, it can be hard to imagine now but once upon a time when you needed information or had a question you needed answers to, you didn't just reach for your smartphone and tablet and get what you needed within seconds, the answers you required were usually found in books, magazines, newspapers, TV or radio.
Connected devices and the content they contain
The internet and the connected devices we use to filter the gargantuan amount of content it contains, changed our content gathering habits forever, now, thanks to the quite brilliant amount of information we can now freely access we are spoiled for choice when it comes to information. This content, like the internet itself, has continued to evolve, aforementioned devices coupled with ever increasing internet speeds means the type of content now available to us has come a long way since the beginnings of the World Wide Web where static text was the accepted norm.
Video is the driving force behind content this year but is not the only player in the field; nearly all the senses can be invoked through innovative software and the features they contain, allied to this is the powerful content delivery method of Page Flip animation, this method of delivery, while doffing its cap to traditional magazines and newspapers offers so much more in terms of content delivery in today's connected world.
Below is a video outlining the qualities, style and reach that a Page Flip publication can embellish and maximize the potential of your content,
This video outlines what you can achieve through Page Flip animation publications
Breathe new life into your content though page flip animation, it may just be the boost your content needs.