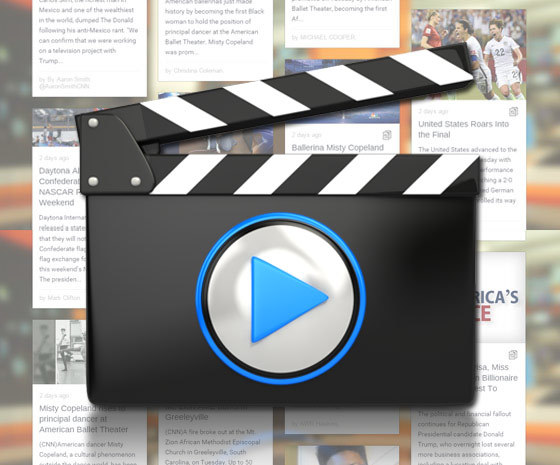 Consumers expect to see videos everywhere. The average internet user spends 88% more time on a website with video.
Video is becoming a successful marketing tool every business needs, it's a new and exciting addition to the market. Your audience want an easy and quick way of finding the information they need about your business, and a video is a great way of doing just that, aswell as providing them with entertainment.
Comscore found out that around 64% of consumers are most likely to buy a product after watching a video on it. Which is an advantage for us seeing as customers will unknowingly spend more time on your page watching a video. This hype over video marketing is not just a phase that will be forgotten in a year or two, 2015 is the year for video marketing, it is the future.
Most of you probably would love to have a video produced but are thinking how do you get started, most importantly how much it's going to cost, the time it will take and effort you would need to be putting into making it. 76% of marketers who haven't set up videos yet plan to add video to their sites. In today's blog, I will share a few tips on how to start up on online video marketing.
Most asked questions about video marketing
Cost?
No, you do not have to spend millions on a video for your business. You don't need to be hiring out a studio for the day along with a camera crew, simply shoot in a room in your office with good lighting with a good quality camera. It doesn't have to be a long thought-out video, You just need to be thinking about engaging the customers as soon as they press play. Try and keep them short to avoid customers getting bored, shorter videos go viral.
What kind of content?
Consider what your customers want to hear. Include material that would be relevant to them in your videos. A good idea for a first video could be an introduction video into what your business is about, which can also easily fit onto the landing page of your site which is very important as it is the first thing your customer will see, reports by Mistmedia show that by having a video on the landing page of your site makes it is 53% more likely to show up on page 1 of google. Other ideas could be a Q&A, how to use your product or even try getting a few of your employees involved to talk about why they work with your company. Keep it short as I said before and try keep it under a minute. To see an example of one of our video tutorials click here.
How will people find my video?
You don't want to put all of your money and time into a video that won't be seen by anyone do you? Make your video easily found by sharing them on your social media accounts. Invodo discovered that 92% of viewers share videos with others. By posting them onto your social media accounts people have the opportunity to share the post or be redirected to your site to find more information. Facebook is a great way of marketing your new video, or even try setting up a YouTube channel. 300 hours worth of videos are uploaded to YouTube every minute and it has more than 1 billion users. 3D Issue have a YouTube account, an example of one of our videos is: Meet Jeff!
The consumer is always in control. Having resources such as the internet, they are able to research a product, find reviews or reports about it until they find the result they're looking for. It's our job as marketers to make our information easily available and have it all in the one place.
Having all your information in one place?
3D Issue has designed software such as mobile apps, content hubs and digital magazines that can connect all your information in the one place.
You can include your videos, articles or blogs you've written and even include audio clips of your choice when designing online magazines with us, to see samples click below.
Digital magazine samples
Apps samples
Hubs samples
All of our software is available on any device, you can have all your information for your customers available to access from their phones, tablets, etc in the design of an app or hub or digital publication. Video has played a big part in our software's development and can be integrated as a key feature in many ways. You can sign up for a free trial to get a better idea of our software.
Your customers can now access the information you choose in the one place and have it on the home screen of their phones so you are not easily forgotten.
Do you still have unanswered questions relating to how to progress with your online video marketing via our software? I'm sure our team can help you out contact us at info@3dissue.com and we can assist you today.
By Georgia Keys