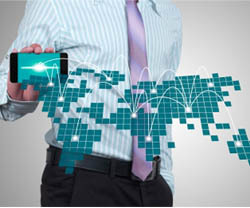 There is no doubt the way we do business has, in recent years, changed forever, while traditional methods live on, there is a new kid on the block. The internet has changed all of this in terms of how we conduct our business. There is no escaping the fact that a large portion of our world has moved to the online stratosphere, this can come in many a guise, from the necessary like paying bills/online banking or the hobby orientated right though to searching for content and information or just simply checking the news and weather, our world is increasingly likely to be found online.
The online world and your business
The online platform has opened up doors and opportunities that would have previously been unthinkable, our reach has grown immeasurably, today's world is a far cry from that of our ancestors. We live in changed and ever changing times, our world is infiltrated at every turn by digital influences, how many of us would go to a travel agent nowadays to book a flight? How many of us would make a purchase without first researching it online? The examples are infinite; the only limitations are within ourselves. This is not to say that the online world has replaced our own but I think it is important to point out just how much of an influence it has on our everyday lives.
With such a growing user base, (recent studies have shown that 85% of American adults are now online), it is therefore essential to establish and maintain an online presence for your business, no longer is the online world solely a domain for larger companies, (if it ever was). More compact businesses are realising that they too have to have an online presence, and not only have an online presence but a presence that is continually maintained and updated providing the latest informative content.
A common concern for businesses was outlay; many struggled to justify spending on an online strategy. What good will it do me they would ask? They struggled to adapt to the seismic change that was occurring all around them. Many of these businesses are now in a dangerous position, other tech savvy entrepreneurs who have future proofed their business find themselves in a much stronger position as they already have an online strategy in place. For those who have not though, all is not lost; all that is required is some planning and swift action.
Creating an online strategy for you
An online strategy is similar to any business plan, you have ascertain what it is you are setting out to do and what are you will be targeting, sounds simple right? It is to an extent, but only after you have researched exactly what and who your target market is and the methods you will use to reach them. You have to have an unwavering understanding of what your real strengths are, you have to understand your competitors, industry and marketplace and crucially, you have to understand your customers and the society in which they live, if content is king the customer is the dictator.
Your online strategy, much like and in conjunction with your overall business plan is an on-going process; it is an integration of your business goals merged with your online objectives. A series of questions that you will consider before making any online decisions. There are numerous objectives you have to consider here:
Define your goals – what online objectives and business advances do you want to achieve?
Content creation – you will have to invest time in creating useful, high quality content that will help drive traffic to your site.
Pinpoint your target market – define exactly who it is you are trying to reach, who is it you want to visit your site? How will they find you?
Decide which online properties you will utilize –Will your efforts be solely concentrated on your website? Will you write blogs and newsletters to supplement your site? How big a part will social media play in all of this? Will all of these properties be utilized into building long lasting relationships with customers?
Monitor the results – Devise ways of monitoring exactly what is working for you and what isn't, refine your efforts where you find most success and maximize your potential.
Good content and what it means to your online strategy
High quality, relevant content is a vital part of all of your online strategy, not a separate entity. Whether that is social media marketing, SEO, PR or Pay per click advertising, one common factor they all have is they require good, relevant content that will drive them to your product with an informed and accurate viewpoint of what your product is really about and the value it holds to them, as consumers.
Metrics and their importance in defining what the audience wants
Ensure that you have top class metrics integrated into your site. With 3D Issue Hubs, we ensure that every click is recorded and analysed. We use this data to tell us what features users like and which are never used. What are the most popular search terms etc…? What articles have been completely read? Are your readers sharing your articles? How long are your audience remaining on your publication / newsletters.
Ensure that you have effective stats on your site to maximise your audience reach.
Mobile devices and the influence they have on your online strategy
With 40% of emails and web traffic now coming from mobile devices, your content must also be responsive, it must be able to be automatically lay out to suit the resolution of the device that the audience choose to consume the content on. Platforms such as Hubs supply such a responsive resolution for your marketing content to be viewed across any platform.
Refining your online strategy
All of the above are vital components when it comes to planning and implementing your online strategy, you have to corner your exact niche in the market, play to your strengths, nail down exactly what is it that makes you different, what is your unique selling point? The essence of strategy can come down to knowing what not to do just as much as knowing what to do.
There are many avenues you can go down, you will have to test them and figure out which one is right for you, the sheer numbers involved in social media such as LinkedIn, Facebook and twitter to name but a few would make these sources folly to ignore. Other methods of online strategy will require particular attention, Search engine optimization, keywords, email marketing, all will require attention to detail. There is no quick fix involved, this will be an on-going process, one which you will have to pay special attention to, the internet is already full of content that is out dated and desolate, left like tumbleweed in the desert, it still exists but ultimately it's not doing anyone any good.
To have an online strategy is to have a definitive aim of what is you are trying to achieve, how you will achieve this and to whom it will be aimed. Hubs can help you achieve these aims with its unique set of features that are designed with online strategy in mind, they will leave you perfectly positioned to carry out, monitor and position your business in the strongest vantage point possible.
Try 3D Issue Hubs for free today.