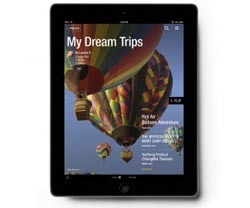 Online publication can provide with the necessary tools to create a digital edition that reflects a company accurately. In this blog we will take a look at some tips to customize the skin of the interface for the end readers through the features available in the 3D Issue software.
In what ways can customization benefit your company?
Online publication allows you to make the skin and the background of your digital magazine look and feel like your own company's publication – adding your branding, colours and logo and as a result increase your brand recognition.
In the 3D Issue software, you will find all the customization options in the appearance section. These are some of the features available in the appearance section:
1.  Background: There are several options available for background: Custom, None, Wooden floor, Concrete. If you select Custom and the 3 dots, you can select any colour for the background or you might have an image that represents the company
2.  Preloader: Our latest version also allow you to have a custom pre-loader so you can have your own logo appear at the start of the issue loading rather than the default 3D Issue preloader
3.  The intro area: This area immediately to the left of the front cover is a prime space. You have 3 options here: Disable, Default or Custom. If you select Custom, you can open up your own intro file – this could be any image, a feature advert, a special offer or new product of the company
4.  Top banner: The top banner will run along the top of your edition and allows you to upload a number of images –to add advertising. For more information, check out this video tutorial: Integrating advertising into your digital editions.

The customization features allow you to put your stamp in your digital edition and communicate a consistent message to the end readers in both: print and digital publications. For a step by step guide check out our video tutorials: Customizing the skin
You can also check out our video tutorials for a step by step guide:
Two of the lesser spotted features in 3D Issue
Top tips for beginners of digital publishing software
Image thanks to the nice folks here