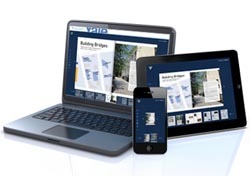 A prospectus usually contains information on the individual courses, the staff (professors), notable alumni, the campus, special facilities, how to get in contact with the university, and how to get to the university. Some universities also provide an audio recording of their prospectus being read aloud on CD for the sight-impaired.
A prospectus for entry in a specific year or semester/term (e.g. September 2007) is usually available one to one-and-a-half years beforehand which can lead to some of the information being out of date before the student begins studying.
Imagine being able to reduce the costs of printing and distribution of that prospectus. Imagine not having to pay for that audio recording CD but be able to embed the audio recording in the prospectus to assist the visually impaired. Imagine reaching a higher number of prospective students by publishing through their preferred social networking sites? We all know that the prospect of converting them into paying students is so much higher when we can get them in on-campus. Imagine being able to use your prospectus to give those students, who haven't the funds or the time to travel, a virtual tour of your campus. Let them listen to other students being interviewed about campus life. Let them watch interactive laboratory sessions, live projects the students were involved in, workshops with visiting practitioners or perhaps marvel at an animated 3D model of local research. Link out in real time to events in the local community. With an online prospectus you can do all of that.

When developed, you must make it accessible. More and more visitors are using mobile devices to access the website so it was also very important for us to create something that works seamlessly whether you were viewing it on a laptop, a tablet or a phone. Digital publications such as an online prospectus must easily reach a wide audience across platforms and devices like the iPad, Android tablets and the Kindle Fire. Not to mention, access is quick, cost-effective and friendlier on the environment. In many cases, content can be created once and delivered to multiple platforms and operating systems, reducing the cost of publishing while simultaneously reaching broader audiences.
By Linda Daly