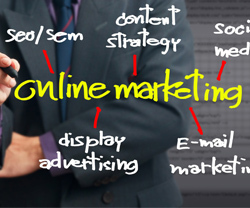 Finding the "right tools" for your digital marketing efforts can be a time consuming and error prone task. What are the perfect tools to build your online presence anyway?
It's all about testing a group of similar online marketing tools and deciding which one provides the best results. There are some specific tools that don't have real competitors in their niche, but can they prove to be of value to you?
We've picked three online marketing tools that will put you in a position where you can manage your digital marketing strategy with ease:
Function: Buzzsumo provides a huge insight into the social media world. With this crafty online based app you can find trending topics in your niche and analyze them. Some of the most interesting features are "Top Authors research", "special Facebook Analyzer", "Domain Comparison" (great for competition research) and "Content Analysis" where you can find out a lot about both the type of content being shared (video, infographics, articles, etc.) and the social media channels where it's being shared on.
Cost: Three different pricing plans are available at Buzzsumo including a free account option which is enough for an individual blogger or a small company. The company plan has a price tag of $99 per month while the enterprise package is set at $299 per month.
Value: Digital marketing is becoming a fusion of many different communication channels and the need of implementing multiple marketing strategies is becoming eminent. Buzzsumo is one of the few online marketing tools that offer the data gathered through social media in such detail.
Besides, your content marketing strategy isn't the only place where the reports from Buzzsumo can be used. Think about how valuable the reader behavior insights are for your social media paid ads campaigns.
Function: Streaming all of your content to your audience through a centralized hub available on multiple devices. One of the most customizable communication channels today, which will allow you to engage with your audience in a unique manner.
Cost: Three available options based on the size of your online activity. The Standard license available at $99 per month will give you access to 1 hub with 10 different sources (more than enough for the average user), the Professional at $299 gives you multiple hubs with 20 sources, and the Enterprise at $599 allows you to have multiple hubs with a maximum of 50 sources. There's a 14 day free-trial offer.
Value: The usage of devices other than PCs and laptops has significantly increased over the years thanks to the development of mobile technology. Your audience absorbs the daily news from the industry they're interested in on the go using mostly their cellphone or tablet. That's why surviving without a responsive news hub is becoming harder and harder.
Function: Design anything from newsletters to corporate logos using the simple drag and drop technology from Canva. The world is your canvas and this interesting online marketing tool helps you draw it. If you're not good at creating infographics (although you need them for your weekly blog) and your budget is just too tight, this is the tool you need.
Cost: The free plan is usually enough for everyone from newbies to marketers. The "Canva for Work" plan on the other hand, priced at $12.95 per month, offers a fully customizable designing platform that will even delight professional graphic designers.
Value: Infographics have been taking a huge swing in the past couple of years and for a good reason. They're informative and easy to read. A high-quality well researched infographic can cost hundreds of dollars, so if you're good at research but not at graphics, Canva will make you look like a pro.
Function: By now, you probably already know what type of content is going viral in your niche and you have the right tool to make it visually appealing, but what about your backlink profile and keyword ranking? Ahrefs is one of the best online marketing tools for this purpose.
Cost: The priciest among the online marketing tools on this list, but as you'll see later on there's a good reasoning behind it. Three available plans payable on monthly and annual basis: Lite $99, Standard $179, Advanced $399.
Value: It's not all about SEO. Ahrefs can help you in your branding efforts, handling your online reputation and building a better online presence for your business. Another aspect you should consider is analyzing your competition. Ahrefs provides a set of tools that will help you find out almost everything about your competition and their marketing efforts. All in all, it's worth the investment.
After you research your competition and notice how they're using a hub to gather all their viral content, check out our product page and every piece of the puzzle will come to its place.
For more information you can email us at info@3dissue.com.