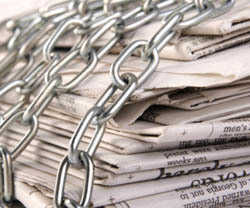 What is the future of online content?
According to this article, the majority of online content is expected to go behind paywalls in the near future. A study conducted by global pricing consultancy Simon – Kucher & Partners asserts that '90% of online content is likely to be held behind paywalls in three years' time while 27% of media companies expect a significant shift in profit margin increase over the same period of time.
This shift to paywalls could put an end to the 'free for all' online culture and open up new opportunities for media companies. In the words of Mark Billige, UK managing director at Simon – Kucher & Partners 'Media companies clearly see optimised content offers (print and online) as key success factors for the future, but these offers need to be priced correctly'.
The article explains that only 38% of media companies have a dedicated pricing function – the lowest across all the industries that participated in the survey. Nevertheless, The Telegraph Media Group has recently announced online UK paywall. The media company has revealed its two subscription models:
–       The Web Pack: This plan combines unlimited web access with their Smartphone Apps for £1.99 a month
–       The Full Digital Pack: This plan includes tablet editions for £9.99 a month
The article explains that The Daily Telegraph went online in 1994 and has an audience, exceeding 60 million a month – and from now on, the company will be also extending their web subscription model to UK readers.

Will their new business model be successful in the UK market?
Their success depends on whether or not the company's offering engages the end readers and entices them to pay content consumption. As businesses shift to the subscription model, it is relevant to plan a course of action that ensures the successful adoption of paid content. Feel free to contact us at customerservices@3dissue.com
Image thanks to the nice folks here
By 3D Issue