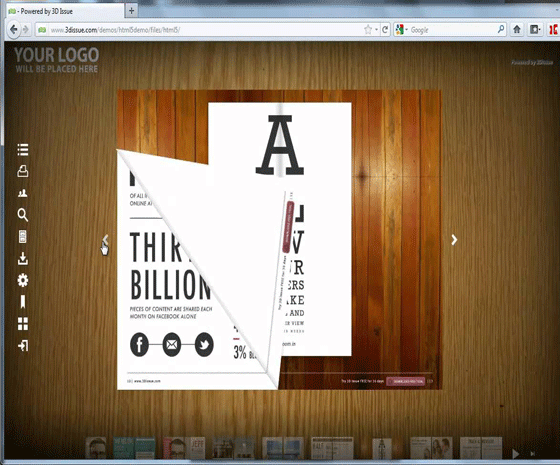 The opportunities an online catalogue hold are indeed immense. Many companies that have used 3D Issue have seen their business grow as a direct result of this marketing creation. Having a catalog online available from your website, opens up lots of possibilities for more potential and returning clients to view your product range.
The marketing opportunities extend to sharing the online catalog you have created through the use of social networking sites and email marketing campaigns. Customers respond to emails offering discount vouchers within a product catalog and with a digital version you can increase sales faster and generate leads on a quicker basis, due to the speed of internet access to the publication on any computer or device be it Windows or Mac, iOS or Android. The further ability to add shopping carts, links to buy, video demos, audio description and so on often lead to a greater understanding of the products or services a business is selling.
Finding and using an online catalogue creator can be challenging if you are unsure of what to look for. Try before you buy is usually the best way to check if online marketing tools will work for you and your company. With 3D Issue catalog creator software you can download a trial version of the software for free and use it for 14 days to see how well your customer responds to it.
3D Issue is a popular online catalogue creator with its multiple features it caters to all. When creating a catalog you may wish to restrict access, for example: Only paid prescriptions viewers can view particular catalog issues, with 3D Issues online catalogue creator you can control who can view your content by simply adding username and passwords.
Beginning your journey using an online catalogue creator could not be simpler with 3D issue. You simply install the 3D Issue software, import the PDF or PDFs of your catalog and then add interactivity in the design section of the software. A full ePublication guide accompanies the software as well as a handy video tutorial.
If you are unsure of what your end product will look like, take a look at some samples created using the 3D Issue software. The 3D Issue software allows you to convert your lifeless PDF's into fun, interactive digital editions.
Another quick and handy way of getting a feel for the software is by attending a short online demo. Click here to participate.
For any further questions or queries please do not hesitate to contact us.