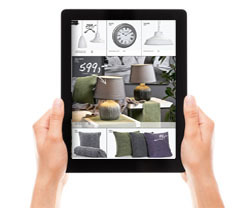 Flipbooks have played a pivotal role in the digital revolution; they have breathed new life into the static PDFs of their printed relations, their use of interactive features allied with a larger reach, low cost production and the capabilities of tools in the vein of analytical analysis for all parts of your online brochure make these a marketers dream.
Read more about Flipbook Creation Tips for Marketing Success here.
An online brochure can increase sales, reduce costs, and deliver the right products and services to the right users and clients at the right time. As consumers increasingly gravitate towards the online environment it is important to provide the consumer with an experience that caters for their needs. An online brochure can enhance your brand and offer the consumer an experience to match their online browsing habits. For those that may have missed our previous blog on how to set up an e-catlog using 3D Issue you can find it here.
The ability to engage and sell with consumers anywhere on the planet is now only a click away, whereas in years gone past such a proposition would have been littered with potential pitfalls, the connectivity now offered to us by the world wide web has made such transactions more commonplace to the point that E-commerce is rapidly becoming a dominant force in world trading. Sales in this sector are growing by more than 19% per year and are expected to top $140 trillion by 2015 (source)
Read more about Digital Brochure Design – it's Modern Day Story here.
The online brochure offers us many advantages that traditionally would have been out of reach, for example you can harness the power of;
The use of video in your online brochure
A study carried out by E-Marketer found that 51.9% of marketing professionals worldwide cited video as the content with the best ROI. Another recent study concluded that retail site visitors who view video stay two minutes longer on your site and on average and are 64% more likely to purchase than other site visitors (Source), weigh up the advantages of using video in your e-commerce catalogues.
Mobile centric
The world is not only online but is online and mobile. Millions of people around the world are using their smartphones not only as a means of communication but also as devices for content consumption via online connectivity, your strategy simply has to be mobile centric. Surveys indicate that over half of smartphone users browse the web at least once a day using their phone and this number is rising at a steady rate. The implications of this amount of traffic are huge, the last thing you want is for someone to browse through your site but quickly move onto one of your competitors due to the fact that your website isn't configured to be viewed by mobile.
Make it aesthetically pleasing through the use of image galleries and slideshows
Your brochure should not only be easy on the eye but it should showcase your product range effortlessly, it should enable the consumer to see the full extent of your store without getting lost by using image galleries and slideshows to show them in seconds the extent of what is on offer without them having to look for it themselves! Here are some more details on how to build image galleries for use in e-catalogues.
Allow the consumer to download your brochure and read later
Digital readers often want to download the edition so they can take it with them on the go and delve into the content at their leisure. Enable this functionality in your online brochure so they don't have to find you online each time they need to view your brochure.
Read the 7 Best Practices to Creating a Flipbook here.
Be SEO friendly
You have gone to the trouble of setting up an online brochure with content that the consumer will find of interest and value, now you want make sure you're are found by your target market, SEO can aid you in your quest, research what keywords you should be using, figure out your target market and tailor your SEO to match.