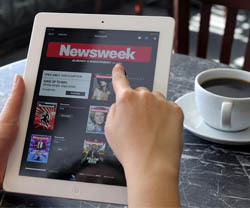 Capturing the interest of your end readers does not have to be a complicated task – all you need to do is take some key points into account to give life to your PDF. Invest time to consider the following points before importing your PDF in the magazine software.
–       The platforms you intend to use: Take into consideration the spaces available in different devices and check if your content is suitable for smaller devices such as phones and tablets
–       Be unique, create engaging content: Interactive features work best when the content of your publication has the necessary elements to satisfy the needs of the end readers.
–       Test your content: Download a free trial and add interactive features in your publication such as video, audio, web links and view your digital edition in different devices. Check out the '3 EASY STEPS TO CREATE AN ONLINE MAGAZINE' for a step by step guide
Winning the hearts and minds of end readers can be achieved through the implementation of different techniques and Hearst Magazine can be a good example. Mashable.com reports on Hearst magazine efforts to reach iPad users through an innovative offering. This article asserts that iPad owners will be first in getting issues of Hearst (including Cosmopolitan, Food Network Magazine, Good Housekeeping and others)  before they are release in print or any other digital edition. According to Hearst president, David Carey 'The success of its tablet editions relied heavily on promotion from digital storefronts'.

There are many ways to provide your audience with a fascinating reading experience – explore the wide range of tools available in digital publishing to give new life to your digital editions.
Drop us an e-mail at customerservices@3dissue.com for more information.
Image thanks to the nice folks here
By 3D Issue