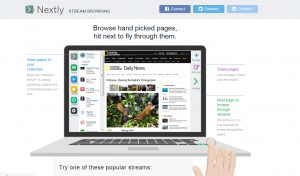 It is without doubt the internet has revolutionized the way we now gather and digest content. We now have access to the biggest database in our history to date, and all right at our fingertips. As this seismic shift in the acquisition of information unfolds all around us, so too have the methods and habits we employ. The digital avalanche of information threatened to overwhelm us, never before was 'finding a needle in a haystack' a more appropriate description of locating content within the sheer scale of data we found ourselves faced with daily.
The volume of data available on the internet is a truly staggering aspect to take into consideration. It isn't humanly possible to go through every available piece of data that may or may not interest you or be of relevance to you and your business. You have to find alternative ways to do this without conceding ground on the quality of content you gather, having so much information available to us can never be considered a problem, although locating and gathering the exact content you want, can prove testing.
Thankfully for every problem there is a solution, and so it has proven, the ever expanding internet provided the necessary back drop for content aggregators and content curation tools to come to the fore. Google reader was an extremely popular platform in this genre and when Google made the decision to close its hugely popular reader it opened the door for other platforms to step up and fill the void it so obviously left.
Content curation tools make the task of processing this data simpler by funnelling this gargantuan amount of information into relevant, easy to decipher portals of categorised information.
What is content curation?
Content curation is the gathering, organizing and online presentation of content related to a particular theme or topic. It is basically a way of funnelling out the information that isn't relevant or valuable to your particular interests. So, when using a content curation tool, you would simply point the tool in the direction of the data you require and let platforms such as 3D Issue Content Hub arrange it in a way that is easily digested and shared.
Content curation is all around us. A lot of us have been partaking in curation for years, sometimes without even being aware that we have. Any of us who have used or are using social media platforms such as Facebook or Twitter have witnessed content curation first hand.
This is not a new concept but crucially, the way it is being utilized is a new concept entirely, and one, which you would be well advised to get to grips with, particularly if in business. Marketers across the world are awakening to the fact that customers are now on the lookout for different services than that of the past. No more do they only require simple messaging but rather they want content rich, Aladdin's caves of information that they can use and interact with.
The consumer's habits, tastes and demands are evolving and the methods employed to cater for these consumers has to evolve also, stand still and you fall behind.

New kids on the block
Many platforms have bid to fill the sizeable market share that Google vacated with the retirement of its reader, the latest of these being the Boston based Nextly. Nextly is a browser curation app that aims to speed up web surfing and also enable users to curate and publish collections of webpages pertaining to specific subjects. Collections can be shared through a single URL through which the collections viewed. To use the platform, users have to log in through their Facebook or Twitter accounts, which are also accessible through the interface as a full, uncurated stream enabling you to view your accounts in an easy to browse manner. You also have the option of following different people and subjects creating an individual dashboard for each user.
Nextly's main strengths seem to be its speed in loading pages and its ability to let the viewer view the content in its original entirety, this would indicate a more publisher friendly approach as traffic would be flowing to the original creator of the content and according to Nextly founder and CEO Ziad Sultan, tests have shown that viewers who find their way to sites through a link on Nextly will read further articles on the original content creators site.
Nextly endows its users with similar capabilities to that of publishers, the curation of collections of bookmarklets and basic analytics capabilities within the platform being the main advantages to the consumer. CEO Sultan sees this as being a service which is powered by from a real persons perspective rather than a computer generated algorithm. The software also has the distinction of being browser rather than software based. As covered on these blogs recently, publisher Josh Marshall bemoaned the fact the he felt certain platforms were providing a raw deal for the publisher so this type of approach by Nextly could curry favour with publishers across the board.
It is worth pointing out that moves and alliances are being made in reaction to Josh Marshalls comments, the most recent being Flipboard's CEO Mike McCue olive branch to Marshall by means of a fairer system in sharing advertising revenue. This is in much a similar fashion of how it already operates with larger publishers such as Vanity Fair among others.
The way forward
Nextly is a fresh, innovative take on the curation playing field, its strengths lie in the unique way it allows the user to view, search and publish. These views, showing the content in its original format and ensuring more traffic flows to the creator's website and stays to read more is sure to prove popular with publishers and consumers alike. The aesthetics of Nextly can get slightly cluttered on smaller screens meaning it may not be ideal for smartphones or even some laptops, in a world that is rapidly becoming smartphone led this may prove to be an achilles heel. The toolbar on the interface while integral to the preservation of the original publisher's layout but infringing on the viewers interface, may not be to everyone's taste either.
From a publishers point of view this may be a small price to pay to ensure their content remains within their parameters and continues to drive traffic to their sites. What isn't in doubt is the necessary service that content curators provide, with the exponentially expanding cyberspace all around us, going forward, this concept is a must for publishers and consumers alike.