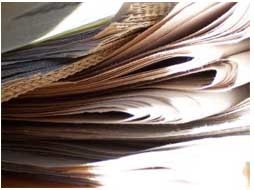 Another week and another print edition ceasing, this time Newsweek announced it is ending the long running print magazine and preparing to launch an all new digital only version.
The printed Newsweek magazine has been a long standing, established publication on our newsstands. The magazine which started the print edition almost 80 years ago has been published in New York City and distributed throughout the United States and internationally.
The new digital only version is set to hit our screens early 2013 under the title 'Newsweek Global' after the last printed copy is released on 31st December 2012.
So why the move? Newsweek and news site The Daily Beast merged in 2010. The merge gave the companies a combination of established journalism and a strong online presence. The Daily Beast states "The Daily Beast now attracts more than 15 million unique visitors a month, a 70 percent increase in the past year alone—a healthy portion of this traffic generated each week by Newsweek's strong original journalism."

As the company sees the online side of the business go through a rapid growth period, is the all-digital version the obvious next step?
"Currently, 39 percent of Americans say they get their news from an online source, according to a Pew Research Center study released last month. In our judgment, we have reached a tipping point at which we can most efficiently and effectively reach our readers in all-digital format. This was not the case just two years ago. It will increasingly be the case in the years ahead." Says the Daily Beast.
The new digital edition will be supported by a subscription model and available to digital readers on tablets, mobile devices and via the browser.
By 3D Issue