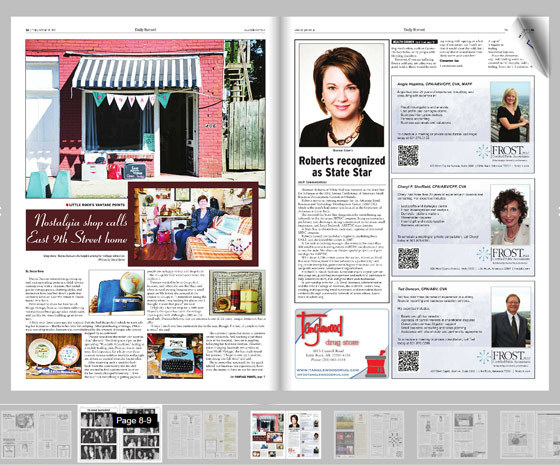 Digesting news has drastically changed and evolved in each of our lives in recent years. With the development of newspaper publishing software now online versions are totally encapsulating and easy to access. How many of us now pick up our ever-present smartphone to check a news-update or monitor a sports result?
Some advantages digital newspapers can offer:
1. Convenience: If you have a WiFi connection you can always access the latest release. You don't have to trek to the local news agents, wait for the mailman to deliver, or worry that the dog will have half of your favorite daily newspaper chewed to shreds!
2. Clickable advertisements: Link ads to the advertiser's website and monitor the traffic by linking the publication up with Google Analytics. Consider charging rates for adverts by pay-per-click if you desire, as many of our customers do.
3. Distribution: Reach millions of readers, anytime, anywhere, on any device or computer.
4. Aggregate just released News: See an example of a Newswall here. Curate all our news into a Hub and allow it to self-update as it original sources do. Use our Hubs free trial to check this out with your own online content. Simply add the sources.
5. Publish to iOS and android mobile apps with technology from 3D Issue. This option allows you to market to a mobile audience and provide both online and offline reading of back issues.
6. Audio interviews: See this video tutorial showing how to add audio, sound or music to your publication.
7. Add video: Short films and movie files can be integrated into your newspaper. This source of interactivity can be highly engaging and added easily.
8. Image galleries: Our customers often have lots of photos to showcase, for example, from an event or even from property sales listings, we developed the newspaper software to cater for this. Our customers were quick to embrace this gallery feature and utilize it in their publications to great effect.
9. Gain unlimited traffic: Once you have created your news publication the link can be shared unlimited times. Articles that readers like can be shared through social networks thus improving and growing your audience.
10. Embed in your web page: Your Newspaper can be embedded on your web page and accessed this way also.
11. Cloud hosting With 3D Issue you have the option of hosting your publication in our cloud. We have lots of storage space for all your editions.
See this online newspaper The Daily Record example below: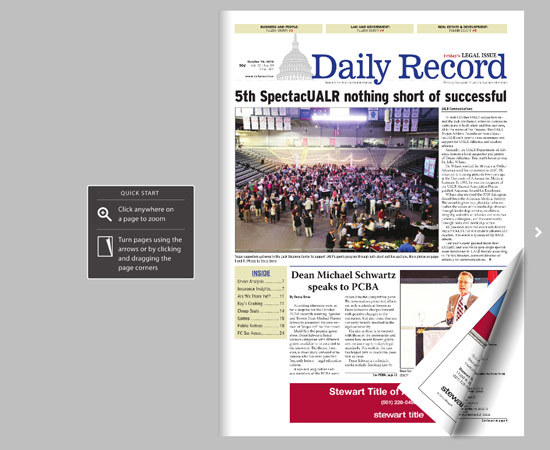 The Daily Record has been the Central Arkansas source for real estate, legal and business information since 1925. Recognized as a leading authority for daily news and information on business and commerce – certain information that can't be found in any other publication in Arkansas.
If you have an idea for a Newspaper you could like to create, but still need a few of your questions answered – please do not hesitate to contact info@3dussue.com.
By Audrey Henry