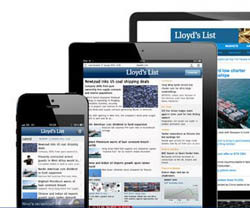 In recent times we have been witnessing a gradual change in consumer habits and behavior in terms of the mediums that we are using to access news and information. Newspapers, while not completely down and out, have been showing signs of decline since roughly 2008 when the internet took over newspapers for the first time as a means for customers to consume news. Newspaper consumption averaged 30 minutes per day in 2010, by 2013 that figure has been decimated to 18 minutes, a decline of 40%. These figures aren't some flash in the pan or a freak event; they are signs of a trend that has been gaining traction in the last few years.
The self-proclaimed 'oldest newspapers in the world' Lloyds List, have recently announced that they are to move their entire operation online, the publication which has been in production since 1743 have made the decision to cease operation for their printed media on December 20th this year. This landmark decision was taken due to the shift in content digestion habits and general traffic of the everyday consumer, the decision, while not taken lightly was backed by years of research and given the overwhelming vote of support by their customer base.
What started out as a printed notice pinned on a café wall in London has now evolved into the shipping industry's most sophisticated online intelligence tool that, through its online presence and modern day customer demand, is available anywhere at any time.
Lloyds List found that less than 2% of their readership were using the print only platform, they realized in order to continue to grow and evolve they would have to invest more of their resources towards an online only publication, by doing so they hope to be able to explore new avenues in content sharing using traditional written methods in tandem with audio and video opportunities that the enhanced capabilities of digital caters for, creating a richer user experience for their subscribers.
The editor of the publication Richard Meade had this to say "The decision follows many years of customer research and preparation and is – first and foremost – designed to ensure that the service continues to evolve with customer demand. This is move supported by the overwhelming majority of our customers. Less than 2% of our readers currently use print-only and no other means to access Lloyd's List. We have already undertaken years of investment in our digital and mobile platforms, but the move away from print will allow us more time and resource to build on that with innovative approaches to data and a more bespoke service that offers content tailored to individual customer needs."
Television hasn't escaped the cull either, with figures showing a steady decline in the amount of time spent watching per week, especially among the younger generation. This spells trouble for traditional publishers and broadcasters alike who were unobstructed in their claim as the main mediums in town. They can lay claim to this mantle no longer, it has been shown that 64% of tablet owners use their devices to access news at least weekly and 37% who do so daily, the figures are similar for smartphone users, sourcing news and the use of email is the main hive of activity amongst mobile devices. Mobile news consumers spend on average around 50 minutes a day getting their news, a figure that will continue to erode the once impregnable entity's that were TV and print media.

This rapid change in consumption habits has had a knock on effect on traditional media, after all it's only a few short years ago a lot of the devices such as smartphones and tablets were unknown and TV and newspapers ruled the land. Whereas previously both the aforementioned media outlets had a monopoly in terms of advertising and the revenue they could generate, these new consumer habits have muddied the waters; more advertisers are exploring the different realms and avenues that have opened up in tandem with the online revolution. Newspapers have been recording steady declines in circulation and advertising revenue and are expected to continue to do so.
The advent of the internet and the impact it has had on the way we view, receive and digest our news has, in a few short years been revolutionized beyond recognition. News technology has developed at such a rate that the options available to us are limitless. No longer do you have to depend on being told what news is, you can seek it out for yourself, find out the stories that resonate with you and not just what the general consensus happens to be at the time.
There is little doubt that the way news and information is conveyed has transformed radically in recent years, the avenues that have opened up to us have aided this transformation, What isn't in doubt is the channels being used in this process, online mobile usage is rising at an exponential rate, many brands and companies are reporting that as much as 50% of their traffic is now mobile with three times as many social shares as that of desktop pc's. It is clear this channel will keep on growing; we only have to look at the number of smartphones now in circulation compared to just a few years ago. There is no market that this is more apparent than the 18 – 24 age groups who, by their virtue of being the next generation of serious consumers, will ensure this trend continues for some time to come.