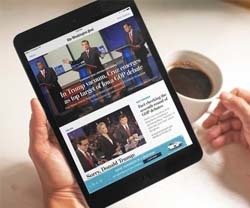 Do you want to increase your readership and revenue?
Well then, newspapers apps are the way forward to accomplish such a feat. But wait, newspaper apps? What are they?
Well, they aggregate all of your published content and news in one single app. In essence what these apps do is centralize your blogs, feeds, alerts, social platforms etc. to push fresh news to your readers automatically and as soon as they're published.
You can also add documents and presentations, embed videos and even add your own digital flipbooks so you can create an archive with your current and past issues.
The best thing of this type of software is that it doesn't require any coding on your part so anyone can create and design their own app.
We have seen a massive increase in the popularity of these newspaper apps in recent months and in the last year. Why?
With the increase of smartphone ownership across the world more and more people are turning to their phones to stay informed about what's going on everywhere.
In fact researches show that there was a 135% growth in mobile consumption only in 2015 and that's not the only thing, 68% of smartphone users in the US obtain their news via social media.
Reach your audience anywhere
With an app software that allows you to create apps for both iOS and Android your app is universally accessible to anyone at any time and place. If your consumers are on the train, at work, at home, etc. they can log in to your newspaper app and check your latest news.
Accessibility is key when trying to keep in touch with your customers and establish a strong, loyal relationship with them.
If they have your app on their phones it will be easier for them to access your news, a tap on the screen an that's it, that's all they need.
Beat the competition
Not all newspaper companies have their own apps.
Only the most successful in the industry have newspaper apps the New York Times, the Tribune,etc.
They know well the benefits and the importance of having one for their audience. But like this, like in everything in life, the sooner you offer it to your customers the better.
Going digital before your competition will not only give you the edge over them it will also make it easier for potential customers to decide which publication they want to subscribe too.
Fore more information on apps or to start your trial visit our site or contact us via info@3dissue.com.