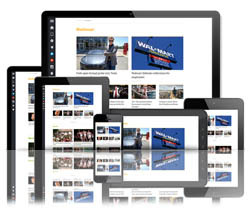 There is a plethora of options available for businesses to market themselves and their websites; you can turn to many different options when choosing the best route for you. Search engine management, organic searches, banner advertisements, organic searches, pushing your way up Google search rankings, the list goes on and on.
One of the oldest yet still amongst the most effective ways of promoting your business and driving traffic to your website is email newsletters; they have stood the test of time while other methods have wilted by the wayside. Email newsletters are still regarded by many as the main way of reaching out to their customer base to interact and inform them.
Other methods can have their benefits, a quick example that springs to mind is social media, while undoubtedly a great tool when used correctly, in terms of 'stickiness', social media is a very instant fix, your post can have an effect but it needs to be noticed quickly before it is replaced by a newer post, with email newsletters, they stay in your inbox until acted upon by the consumer ensuring that one way or another they will be seen eventually.
Making yourself stand out from the crowd
It is not all plain sailing though, with the volume of web traffic and emails we receive every day, it can be very easy for the consumer to get swamped in a deluge of inbox traffic. It is for this very reason that you have to put due consideration into not only your email templates and their overall design, but also the finer details like the subject line, a factor often overlooked by businesses when conducting such a campaign.

A subject line should be catchy and to the point, offering the consumer an incentive to open the mail, this can be achieved through 'power words', (we all like to see the words 'free' in our subject line!). Another important factor for customer retention is the content within the mail should be relevant not only to the customer, but should also be reflected by the subject line on the mail, (i.e., don't promise something on the subject line that you don't deliver in the content of the mail, all you will be doing is ensuring that next time you send a mail it won't be opened).
More often than not, the subject line of the mail is the only thing between you and the delete button.
Targeting the correct audience
Most companies will have a mailing list, a set of people who have subscribed to hear from you and the content and information you will convey. This is your target audience, these are the people who have gone to the trouble of signing up to your newsletter and as such, your email template should reflect this. You have to ask yourself, what is the consumer interested in? What can I share with them to aid in this? You really have to learn about your customers and potential customers wants and needs, do this and you are well on the road to opening lines of dialogue and interaction with your target audience.
Maximising your viewing potential
All of the previous points about email templates are valid and integral points in regard to your campaigns and their success, but they only tell a fraction of the story. There are many other factors to take into consideration when deciding on your email template, one that cannot be overlooked is the upsurge in people using their mobiles for browsing online. This is a crucial aspect when considering your email newsletter, picture this, you have your subject line reflecting on the fantastic content you have spent time putting together for your customer.
They, like many others, are living a fast paced life where they do most of their internet browsing on their phone; a recent survey found that in France 90% use their mobiles to access the web every day, 90% is simply too much traffic to ignore.
Your email template not only has to deliver the content and the strategy but also be open across all platforms to maximise its visibility. Publications such as 3D Issue Hubs enable you to do this through the software's ability to publish to any platform as your content and your magazine is pure HTML5, it can be ported and viewed on any device.
Your newsletter template will automatically adapt to fit the resolutions of any desktop, laptop, tablet or smart phone device. Your content will also be able to be outputted to ePub3 and kindle formats.
Email template options
Hubs is an ideal platform for email templates as it also encompasses the ability to adjust to different resolutions with its responsive layouts feature, it's API ready ability, customization options, video and multimedia integration, social sharing and custom URL's are just some of a host of valuable options that is available when using Hubs for your email newsletter.
Try Hubs in the creation of your email template and find out for yourself the difference it can make to your newsletters success rate and that of your business.