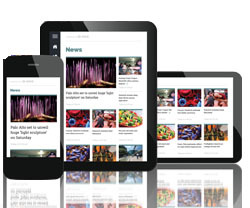 Newsletter marketing remains one of the most effective ways to reach out, maintain relationships with and convey information to your customers and potential customers. In recent times, people may have been led to believe that newsletter marketing was old hat, that there were new kids in town such as social media that were leading the way. Not true, in fact both mediums should be combined for maximum effect, links to your newsletter can be posted on social media outlets such as Facebook and Twitter, this approach will help you cover all bases. Newsletter marketing remains a vital component in your marketing strategy, and for good reason.
Newsletter marketing is not only a cost effective initiative, but when handled correctly it can lead to closer contact with your client base and the benefits that this will bring your company. There are a few factors that you have to keep in mind in order to maximize the newsletters potential.
Content is king!
Good quality, relevant content is the base you should always plan your newsletter around, an email inbox is a busy place, you have to ensure you stand out from the crowd. The first thing someone will see when they open their e-mail is the content line of the mail, this is your, (sometimes only), chance to grab the attention of your intended recipient. Keep the subject line short and to the point, make it catchy and use genuine, unique selling points. Adding the personal touch of using the intended's recipients name is just one example of how you can use the subject line to have a positive effect on the open rate of your newsletter.
Once you get the consumers attention, you have to retain that attention with clear, concise, relevant content that will engage and educate your audience. The customer has come to you by signing up for your newsletter marketing; it's up to you to maintain that relationship. This can be achieved through quality, relevant content that your customer base is interested in hearing. Too many companies rely on placing emphasis on quantity rather than quality in their newsletters; this can actually have a detrimental effect on your end goal.
You should also consider including promotional material or competitions that will encourage engagement with your audience, your goal is to engage with your customer leading them to invest in your product.
Convenience
Another factor in newsletter marketing that sets it apart from its peers is the convenient manner that it can be accessed by the consumer, they don't have to purposely seek out the information you are providing, it comes to them. All it takes is a simple click and they can access your content.
Frequent users of the internet are likely to check their e-mails at least twice a day, even busy users will log in to their email accounts at least once. This is the perfect time to get the attention of your clientele, even if they don't click through the links in your newsletter, they will still be aware of your presence, this in turn will help boost brand awareness.
Newsletter marketing gives you the opportunity to reach out and get to know your customers and, in turn, for them to get to know your organization. You will soon be able to gather information on what interests the consumer through statistics engines such as that available through 3D Issue Hubs, this allows you to avail of its real time stat engine to get live feedback on how your readers are engaging with your content.
Watch everything from how long they spend reading your magazines, to what are the area that interest each individual reader, or what types of articles have the highest efficiency and much more.
Choosing the right platform for your newsletter marketing
You are at the point where you have all the relevant content gathered and ready to publish, your next step is deciding which of the ways available to you to convey this information and which platforms are best suited to your needs.
Platforms such as Hubs are well placed to launch your newsletter campaign from, it encompasses crucial factors in newsletter marketing such as responsive layouts, responsive layouts allow your content to automatically adjust to suit the resolution of the device that your reader chooses to consume your content on.
Hubs dynamically checks the resolution of your readers' device and automatically formats your content to suit that resolution. No pinching or zooming, just beautifully formatted pages.
Publish to any platform
Hubs will output your content and your magazine in pure HTML5; it can be ported and viewed on any device.
Your magazine will then automatically adapt to fit the resolutions of any desktop, laptop, tablet or smart phone device. Your content will also be able to be outputted to ePub3 and kindle formats.
This is vital in terms of mobile phone browsing among consumers; this method of browsing the web is on the rise year in year out and is showing no signs of abating. Mobile browsing is an absolutely crucial, mammoth marketplace and one which should be utmost in your thoughts in your approach to newsletter marketing.
Taking advantage of the features in Hubs
Hubs has many features that are perfectly situated to utilize your newsletter marketing to its maximum potential, features such as social sharing, video and multi-media integration, API ready features, and statistics all figure heavily in aiding your newsletter marketing campaigns success.
Coupled with the good quality, relevant content, Hubs can enable you to reach out and be seen by as many consumers as possible, helping you to build and maintain long term relationships with your company and ultimately extending your consumers lifecycle.
Try your free trial of 3D Issue Hubs today and see for yourself what it can do for your business and your newsletter campaigns, you won't be disappointed and neither will the recipients of your newsletter.