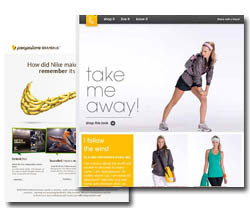 In the midst of the plethora of options available to us in terms of online connectivity and content delivery, it can be every easy to overlook tried and tested methods in favor of the latest fad or some shiny new theory. Email newsletters are precisely one of the former, often vilified and cast aside as old hat, this method of content delivery still stands tall amongst its peers. The fact remains, newsletters are of the most cost effective and fruitful methods of reaching out to your target market. They have boundless potential when utilized properly.
This is why today I think we should look at some inspiring newsletter layouts and remind ourselves of these gems of communication that lie in front of our noses.
I hope you enjoy our findings and find something to inspire your creations!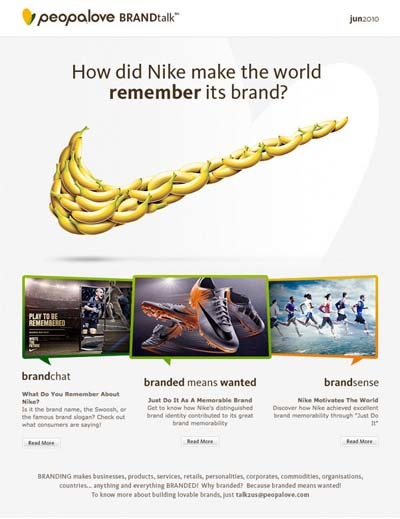 * A visually striking, clever creation by Brandtalk reminding us of how the Nike brand was incepted crediting it's achievements along the way.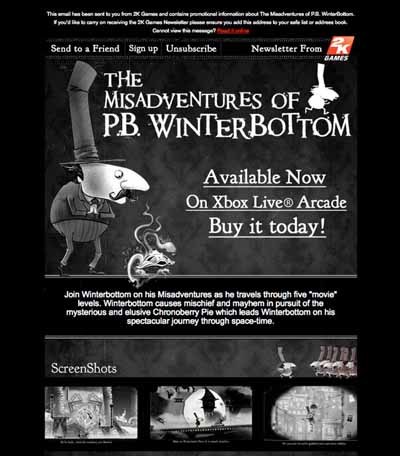 * This newsletter by 2K Games captures the mood of the promoted title with tones of the Victorian era, the illustration is of such a strong nature that you are compelled to continue reading. It also utilizes the advantages of embedded video by the supplement of a trailer within the newsletter, the fact that video has been proven to improve conversion rates will do this newsletter no harm whatsoever.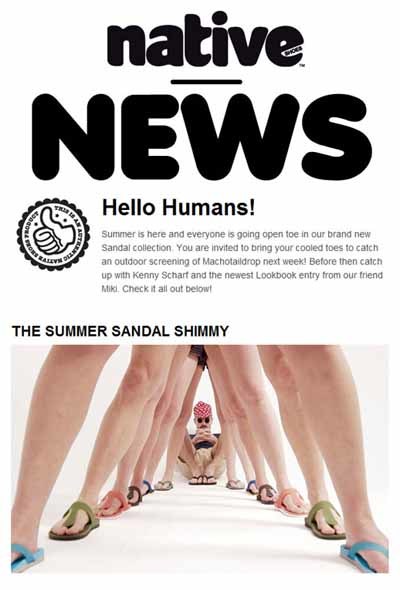 * A one column layout combined with eye catching typography and simplicity and interesting photography makes this effort by Native Shoes a winner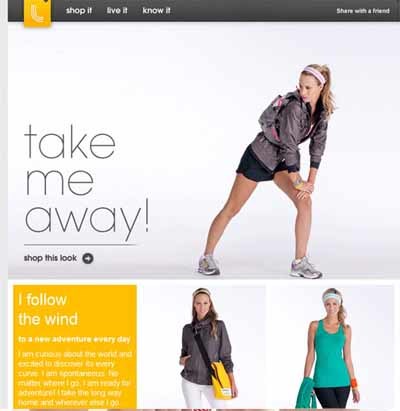 * The female clothing brand Lole comes up trumps with this clean design enhanced with blocks of bold color and simple yet effective photography for a template that is informative without being over the top.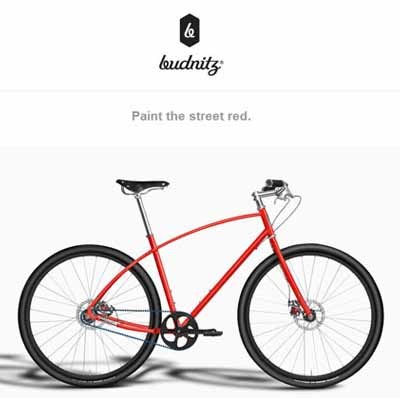 * Another example, if we needed one, of how simplistic photography intertwined with negative space and a one column layout proving that you don't have to over complicate matters to deliver your message in a succinct fashion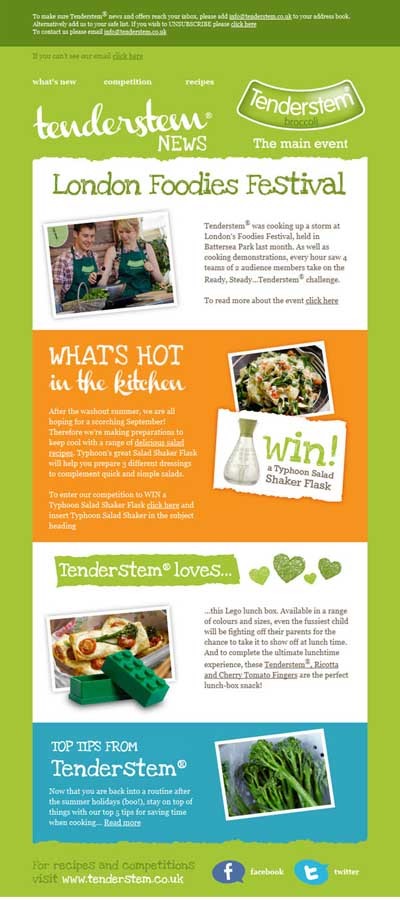 *A newsletter about broccoli which reflects this unique approach through clever use of color, bright and fresh with personality, this offering reflects everything about the product without pushing too hard.
Abercrombie & Fitch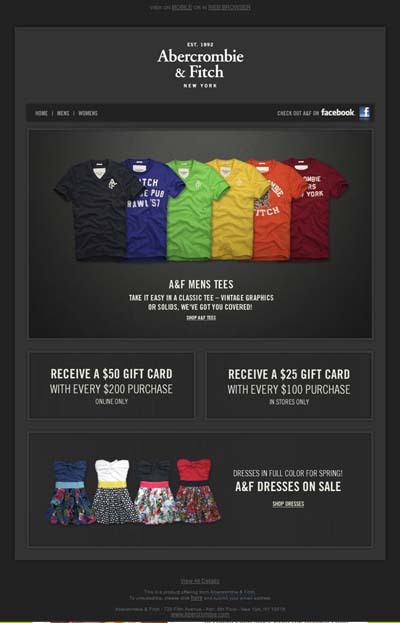 * Stylistic and consistent newsletters by Abercrombie & Fitch create familiarity with the product, the recipient knows as soon as they open the mail who it is from. The combination of dark backgrounds and very strong, colorful product shots put this firmly amongst our favorites here at 3D Issue.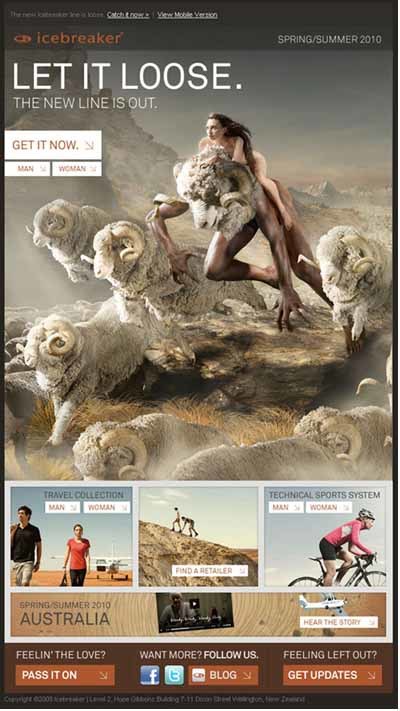 *This campaign by Icebreaker manages to integrate fantasy imagery to great effect, not an easy task and as such merits a place among our favorites.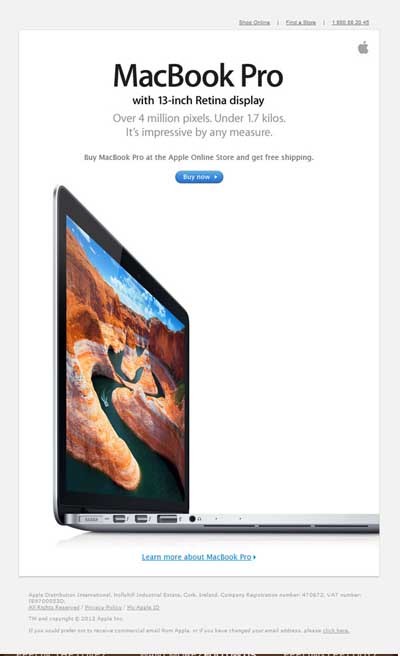 *Strong product shots can make all the difference to a newsletters appeal and overall conversion rate, Apple have proven time and time again they are masters of this art, they are so confident in the effect of their imagery their buy now button is barely visible.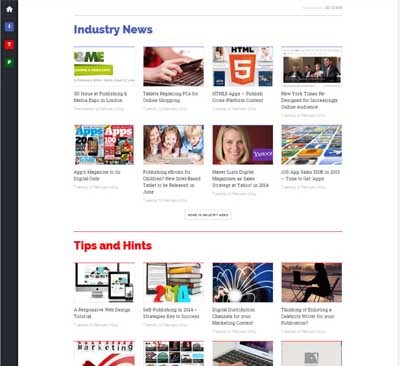 * It is a fact of the modern day world that a high volume of content will be viewed upon a smartphone, this is going to continue, in fact it looks like it will dominate so it is essential that your newsletter is smartphone and tablet friendly, a feat Hubs manages with aplomb.
3D Issue Hubs collects and centralizes your online marketing content and converts it into stunning mobile web applications that can be viewed on any desktop, tablet, eReader or Smartphone. The software collects content from premium social platforms such as Twitter, Facebook, LinkedIn, Google+, Instagram and YouTube making your job of content creation much easier and less time consuming. Your readers can also push content through these platforms through comments and sharing options.
Using 3D Issue Hubs you can bring together content you have on your website, blogs, Twitter feed, YouTube account, Facebook, Tumblr and more. Your reader can then access all your content together, on the device they choose to view it on, a win win situation for all concerned.
Why not try out Hubs and revolutionize the way you create, share and reach out with your newsletters.