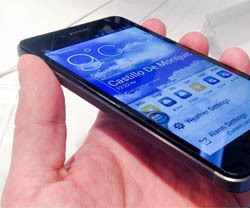 Our blog today deals with some of the most recent developments in the mobile and tablet sectors. Mashable.com reports on the latest launches from some well-known companies. The first one is from ASUSTeK Computer Incorporated (ASUS) – a Taiwan-based multinational company; introducing the transforming concept through its PadFone Infinity, a 5-inch smartphone that turns into a tablet when plugged into its 10.1-inch dock. According to this article 'Asus upgrades the specs of both the tablet and the smartphone component to new heights'. The product can certainly provide both practicality and novelty at a price of £799 ($1,209), although; the date of availability has not been officially announced yet.
Mashable.com also reports that HP (Hewlett-Packard Company – an American multinational information technology corporation) is launching the Slate 7 Tablet to focus on what the company considers as the most promising market: the mid-sized tablet space. The company is approaching the market with an aggressive pricing strategy – $169.99 in the U.S and providing users with a premium build experience through its features including Beats Audio speakers, a micro-USB port, a soft-touch rubber back and two cameras.

Apple is also starting production on the next iPhone according to reports. The Wall street Journal claims that the phone will look and feel similar to Apple's iPhone 5 and is working on a lower-cost iPhone.
As the mobile and tablet sector keep on developing, we can expect to see new features added to the current product offering at a lower price; which can potentially open up new channels to reach the digital readers and increase distribution in this  steadily growing platform.
For more information on new developments, check out these blog posts:
•  News this week from the HTML 5 publishing sector
•  A look at Flip page software to create a HTML5 Flip book
Image thanks to the nice folks here
By 3D Issue