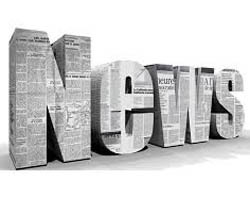 The breakneck speed with which news technology has advanced in recent years has been nothing short of sensational, not only have the changes advanced at lightning speed but the changes in the way we digest news today have advanced beyond recognition.
In years gone by we had certain mediums to educate and update ourselves with current affairs, radio and newspaper being two of the main intermediary's, the introduction of the internet transformed how we sourced and received our news, and how!
The advent of the internet and the impact it has had on the way we view, receive and digest our news has, in a few short years been revolutionised beyond recognition. News technology has developed at such a rate that the options available to us are limitless. No longer do you have to depend on being told what news is, you can seek it out for yourself, find out the stories that resonate with you and not just what the general consensus happens to be at the time.
The internet has opened up avenues to news and news technologies that would have been unthinkable in not so distant times.
The avenues available to us
As mentioned earlier, the avenues open to us in terms of news technology is gargantuan and is showing no signs of abating, these avenues include, (but are not restricted to), search engines, social media (Facebook, Twitter), social bookmarks (Digg, Stumble upon), Blogs, forums and of course online versions of newspapers and radio.

Twitter is a particularly powerful source of real-time news, due in no small part to the number of users and the recent upsurge in smartphone owners, we, as ordinary people now have the power to influence news technology and how it is aired, with what we see and hear around us.
Examples of this phenomenon include Twitter, Twitter is renowned for being the first portal for breaking real-time news, since Twitters inception there have been numerous examples, one that springs to mind is when Japanese journalist Kosuke Tsuneoka, who had been kidnapped in northern Afghanistan, was asked by one his captors for his help in configuring his phone, the journalist was then able to connect to Twitter to tell his family and friends that he was alive and well.
Another example of real-time news at work was the G20 summit, or more appropriately, the unrest that accompanied it, this was one of the first times the mainstream media had used a medium such as Twitter to report on such an event, and some would say, more significantly, the people on the ground, equipped with smartphones and the capabilities that come with them, were able to report a somewhat further undiluted version of events.
These and an exponentially increasing number of incidents highlight the growing trend of 'news on the ground', another
Educating ourselves to educate others
News technology has changed the way we think of, and view the world as a whole; we can now make our own minds up with the various mediums available to us. People on the ground are contributing more and more to what we see and hear every day. We are a global tribe of scribes with journalistic tendencies, who, with the technology at out fingertips (literally), are only too willing to participate to the story.
We now actively seek what is true rather than that we are told to be true. This is not to say that everything you see or hear online is true, far from it, but the sources and avenues are available to us enable us to whittle down the facts, to separate what is news and what is fantasy or fable.
With every advantage there are certain disadvantages!
There is no doubt that the internet and the news technology available through it, is a wonderful resource and one that has changed the face of news technology and the world as we know it. There is a slight problem with all this information…..that is exactly it, ALL this information!
The sheer quantity of information available to us, while being fantastic can be overwhelming on a day to day basis, while we might like to digest all this information, it's not always practical or possible. This is where rss aggregators and content curators such as 3D Issue Hubs play such a pivotal role.
Publications such as Hubs can not only funnel the news that you want to hear, in a manner that is easily digested but it is also capable of updating itself with the feeds that you have assigned it to. You need never miss out on any news again. Hubs also has responsive content and layout capabilities, so no matter what device you are viewing your medium of news technology on, Hubs will adjust itself accordingly, no more pinching and zooming, just beautifully formatted pages.
Try a free trial of Hubs today and never miss another important news update again!