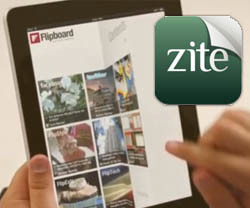 News reader platform Flipboard announced on Wednesday that they had acquired former competitor Zite from CNN for an estimated $60 million, the deal which includes a content partnership deal being struck between Flipboard and CNN is a significant feather in the cap of Flipboard. CNN had acquired Zite back in 2011 for a reported $20 million in the hope of strengthening its presence in the mobile domain and within the news aggregation sphere. Flipboard, the hugely popular app which pulls in content from around the web and presents it in an aesthetically pleasing magazine style format, has taken huge strides since its inception in 2010 with registered users now numbering more than 90 million.
The Palo Alto based outfit, which in September announced a major funding injection of close to $50 million, looks to have reinvested the funding with aplomb. The deal, which will eventually phase out Zite as a standalone app, will add the Zite recommendation technology into the Flipboard app. In the blog post announcing purchase of Zite, Flipboard CEO Mike McCue said, "Adding Zite's expertise in personalization and recommendations to Flipboard's product experience and powerful curator community will create an unparalleled personal magazine for our millions of readers."
Flipboard, which according to CEO McCue adds 250,000 new readers daily, isn't investing in Zite for its audience alone, (which is also substantial but not on the same scale as Flipboard's), but rather for the technology behind the popular app. Flipboard has said that Zite users will be able to use the same username and passwords to migrate to Flipboard. This acquisition is the latest in a string of moves by Flipboard to expand its already substantial reach; the hugely popular platform dipped its toes into the ecommerce market back in November by introducing the ability to create product catalogs of purchasable items found on Flipboard and on the Web. This followed on from the platform enabling users to create their own unique digital magazines in March of 2013 and moving to desktop in July, this latest acquisition shows a company not content to rest on its laurels.
Zite CEO Mark Johnson wrote in a blog post "The combination of our two teams is going to be an epic force," Johnson wrote. "Zite has a small but stellar team with expertise in building a discovery engine and an interface to harness the full power of that engine. With Flipboard, Zite's technology finds a distribution megaphone of more than a hundred million users worldwide."
The internet has endowed us with a treasure trove of content, a resource which we have never seen or had access to before; this in itself heralds the problem of trying to filter this gargantuan amount of content into a manageable stream of data. Platforms such as Zite, Flipboard and Hubs aim to take away the workload for the consumer in terms of trawling the web for content that and give the users stories that are of unique interest to them.
Try Hubs today