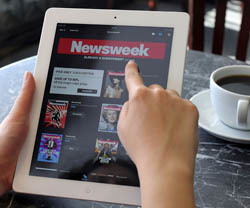 In a development exuding tones of David and Goliath, former magazine Newsweek has been experiencing something of a rebirth under digital publishing company IBT Media. Where media mogul Barry Diller; backed up by tens of millions of dollars and his most trusted lieutenants struggled, the small publishing company looks to have succeeded by reintroducing the newsweekly magazine back to newsstands and more importantly setting the ailing publication on the road to recovery and growth.
Etienne Uzac, 30, and Johnathan Davis, 31, founders of IBT Media; purchased the dying publication for a nominal fee last summer in the belief they could resurrect Newsweek as a credible force in the guise of a web-only magazine. Well resurrect they did, after tripling Newsweek's online traffic they have taken the decision to start the printing presses again with the announcement that hard copies would be available from this Friday 7th march.
"We had no real plans to bring it back into print," Jim Impoco, Newsweek's editor in chief, said during a recent interview at the company's headquarters in Lower Manhattan which appeared in The New York Times. "We called it the p-word."
Due to persistent urging by former consumers lamenting the loss of the title, a title which once enjoyed a worldwide circulation of 3.3 million readers, IBT Media has decided to roll out hard copies with a maiden run of 70, 000 copies and a price tag of $7.99. Mr Uzac shed some light on the move when he said; "I had heard it would not be viable, but then I looked into it and decided we could sell some copies for significantly more than it cost to make," while the print run of 70,000 is modest compared to the huge circulation enjoyed in the early 1990's it is nonetheless a significant progression considering the dire straits the magazine had found itself in.
The magazines content will also be available online for a more affordable price, a fact that Mr. Uzac doesn't expect to overly impinge on the print versions niche market share as he continued, "You would pay only if you don't want to read anything on a backlit screen," Mr. Uzac said. "It is a luxury product." The fact that IBT have decided to re-release Newsweek, albeit at a price which places it within the luxury bracket, alludes to the theory that print while never destined to disappear completely, may be migrating towards premium status. The fact of the matter remains; it has been through the growth of online traffic that the near extinct publication has undergone a Lazarus style resurrection.
Could this amalgamation of digital and print be the way forward? Is there a dovetailing of sorts to be found within the printing and digital domains? We here at 3D Issue think this could very well be the case, we believe this to be the case to such an extent that our most recent product, Content Flow is designed to breathe life into existing and past print publications.

3D Issue Content Flow is aimed at unlocking all the brilliant content that you already have but up until now were unable to utilize for the online arena. Think about it, content drives the internet and is the main thing that consumers seek; it is businesses and companies goal to provide content to attract traffic and drive engagement, so what if this new technology could transform all the content from your PDFs that you would have used to produce your printed publications in the past into mobile ready content?
This is akin to an Aladdin's cave of content being made available to publishers; this could be the key to unlocking your personal goldmine of existing content. Publishers the world over will have possible treasure troves of content locked into static PDFs that could benefit from this ground breaking technology.
The possibilities and advantages of this technology is limited only by your imagination, the doors blocking your content from being readily available to mobile internet users are just about to get blown off their hinges.
Why not pay 3D Issue's Content Flow a visit and find out more.