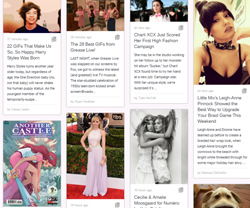 It didn't take long for the news publishing industry to understand the needs of their digital audience. As soon as social media platforms became popular they updated their marketing strategy and started improving their communication channels.
Nowadays there are news aggregator sites that are able to curate content from different sources while still adding their own personal touch.
There are a few reasons why news aggregation work so well and today I'm going to share them with you.
Why readers love news aggregator sites?
Back in the day you wouldn't find it hard to sit on your Pentium computer and look for relevant news on dozens of websites or even forums. You were already used to the fact that searching for noteworthy news would take time and effort. Besides, there weren't that many websites to choose from anyway.
However, with the evolution of the Internet and the appearance of new and more capable devices now available to the public, the way we searched for news changed.
Today the environment we live in is highly dynamic, everything changes faster and we are busier. Our perception of time has changed and when it comes to content we try to consume as much as possible in the shortest period of time. We want the information as soon as it's available and we don't want to spend hours, not even minutes looking for it. What before was considered an average amount of time, today is unacceptable.
There are 3 elements that laid the foundations for the rise in popularity of news aggregator sites:
• Widely available Internet access
• Social media
• Mobile devices
People read the news as soon as they are released, while on the go, and on their mobile devices, that's how today's world is operated. But that's not all, our attention span has been shortened to less than that of a goldfish, so the longer you can keep your audience engaged with nice and interesting news, the better you'll be doing, and news aggregators are great for that.
The audience can access and browse quickly through all the information available and select what they want to read, watch etc. without leaving the site, app or platform, and with the certainty that the information is available as soon as it's published on the original sources.
Building a news aggregator site or app, is easier than you think
The easiest way for anyone to build a news aggregator is by using a Hub platform. A good Hub platform will let you create your own hub just by selecting and adding your content sources.
In a matter of minutes you'll have your hub ready for your audience to access it from wherever they are. Don't forget that a proper hub should always be mobile friendly, we've already mentioned how people consume news these days.
Best practices when building a news aggregator site:
• Make your content the main news source (always high quality content)
• Include sources from authority sites in your niche
• Encourage and promote the communication with your audience
• Make it easy for you readers to share your hub and your content
• Make your content easily accessible
Although these are just some general guidelines when creating your own news aggregator, you should always try to adapt the strategy to fit the nature of your content and niche.
What can a News Aggregator do for you?
It doesn't really matter if you are a big company or a small one, if you create a lot of content every day or just a few articles every week (we all know how difficult it is to create content every day). The truth is that, as long as you offer content that is valuable for your customers, aggregation will keep your audience on your site for longer.
How? Providing high quality content doesn't automatically mean that your reader will stay on your site forever. They may even leave the site after going through a single article if they don't find something else to read.
By offering more news (original or aggregated) you will be lowering your bounce rate, engaging more visitors and increasing the chances of your content being shared and discovered by potential customers.
You can start creating and enjoying your own hub today, with 3D Issue Hubs free trial.