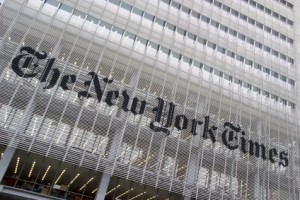 The New York Times, which was due to release a paywall last month, has now stated that this has been delayed briefly and will launch shortly. Janet Robinson, Chief Executive Officer and President of the New York Times spoke prior to the Morgan Stanley Technical Media & Telecom Conference today in New York saying that the metered paywall is in final testing.
"The pay model for NYTimes.com is in the final testing phase, and we expect it will launch shortly," Robinson said.
Robinson released some pleasant news for digital publishers saying that digital advertising returns in February had increased as well as print advertising. The New York Times is expected to charge less that $20 per month for their content. This week has proved to be a busy time for paywall reporting. It was only yesterday that Variety did the right thing by launching a blog outside of its paywall. And last month The Daily Telegraph revealed a policy to initiate a metered paywall.
Like that in the UK the Express and Star daily newspapers pronounced their plans to launch their own paywalls. This will be the first daily paper to do so.

By 3D Issue