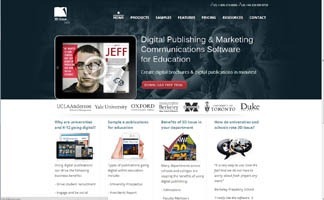 The education publishing sector has experienced important changes in the past few years and 3D Issue is delighted to announce its response to the particular needs of this sector launching its new section on our website.
What can be expected from this new development?
3D Issue for Education Product enables institutions and their publishers to create noteworthy digital multimedia publications for a cross platform audience – mobile devices, tablets, laptop and desktop computers.
Educational institutions and their publishers will certainly be at the receiving end of great benefits through this affordable and easy to use software solution to:
– Drive the recruitment program, using digital publications with virtual tours and videos of student testimonials.
– Posting course material and publishing research, annual reports, President's Reports, Campus Magazines, which can be accessible in any device used by students.
– Getting updates and photo galleries to promote college activities.
– Promoting research to industry partners.
– Creating Apps for iPad, iPhone, Android and Facebook and have them branded with the school or college crest or logo. 

3D Issue Education Product provides the educational sector with the fantastic opportunity to tackle the most challenging aspects of reaching the current students' segment – a changed and diverse group with new expectations. The future for educational institutions looks promising by adding a wide range of interactive features aimed to engage students in a more meaningful way and providing them with accessibility to content for all devices anytime and anywhere.
Explore 3D Issue use cases in education in the education section and discover the potential in the education publishing sector through key information on the target audience, samples of e-Publications for educations, reviews from our clients in the sector and so much more! Currently, 3D Issue serves some of the top names in education including Pearson, Yale, Duke, Michigan, Oxford University Press, McGraw Hill and Cardiff University.  Feel free to contact us for any queries, comments or ideas at info@3dissue.com