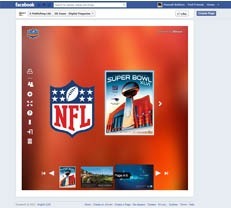 Can new platforms for social marketing give new life to your digital magazine? The purpose of this blog is to analyse what kind of benefits can be expected through the integration of social media in your digital magazine. We will take a look at the particular case of one of the world's most visited internet portals – Yahoo and the company's strategy to integrate the site with one of the most popular social networks as part of its offerings.
Reuter.com asserts that Yahoo is going social in an effort to win back its internet audience. In contrast to competitors such as Google and Facebook, the company has experienced a decline in its revenue in the past few years. The article reports that Yahoo's 2012 revenue was $5 billion, off from some $6.3 billion in 2010.
The company strategy to capture the interest of the digital audience via Facebook is certainly an interesting approach. In the words of Yahoo's CEO Marissa Mayer 'Yahoo's redesigned website will let users log in with their Facebook IDs to gain access to content and information shared by friends – from articles and videos to birthdays'
Is going social the key for success?
Undoubtedly, this strategy will involve a transition-where Yahoo's users will have the last word. If successful, this integration with social media can result in the comeback of Yahoo as a strong competitor in the web. According to analysts 'the move marks a strengthening of Yahoo's ties with Facebook, employing some of the social network's growing data on its billion-plus users to battle Google for Web users' attention'

Only time will tell if Yahoo's strategy was the right move for the company. In the meantime, we can conclude that social networking can provide you with the fantastic opportunity to reach millions of users who can distribute your digital magazine; sharing it with their friends and in this way, it can be considered as a highly effective channel to fulfil your objectives.
So, why not embrace the possibilities provided by the social networks integrating them with your digital magazine – 3D Issue lets you do this through a sharing option in social networks as well as creating a Facebook App for your digital magazine!. For more information on the Facebook App, visit our Features Section and check out our video tutorial section on 'Creating a Facebook Magazine App' under the spotlight features section.

By 3D Issue