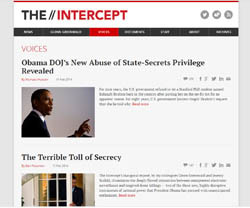 First Look Media launched its maiden digital magazine with the introduction of 'The Intercept' last Monday 10th February. The digital publication which is backed by Pierre Omidyar, the billionaire co-founder of eBay, is led by award-winning journalists Glenn Greenwald, Laura Poitras, & Jeremy Scahill.
"When I thought about creating a media group for the digital age, I really wanted to focus on bringing the ethos of the first amendment to the digital age" said Omidyar in an interview with OPB.
The venture, which is the first of a planned collection of digital magazines published under First Look, is noteworthy due to the fact its initial focus will be centered on disclosures made to Greenwald and Poitras from NSA whistleblower Edward Snowden.
"Glenn, Laura, and Jeremy are relentless in their pursuit of a story and rigorous in finding the truth," said Omidyar. "We share a belief in the fundamental importance of a free and independent press on keeping a democracy vital and strong. In all of our reporting, at The Intercept and beyond, we will be anchored by that vision and hold ourselves to the highest journalistic standards. First Look journalists have editorial independence and support and are encouraged to pursue the transformative and engaging stories of our time, no matter the subject."
First Look Media will develop a 'one size fits all' news aggregation site built around a family of separate digital magazines. First Look Media are embarking on a journey which is both perilous and admirable; they are seeking to reimagine journalism within the digital age through fearless reporting aided by technological advancements in digital publishing.

"Today's launch is just the beginning," said Greenwald. "Our day one story is significant and we have more coming. Laura, Jeremy, and I recognize the responsibility in front of us, and are thrilled to be embarking on this exciting and important journey."
The second of First Look Media's digital magazines will be launched by acclaimed journalist and New York Times best-selling author Matt Taibbi at a date later this year.
Do you wish to publish your creations in the digital environment?
Why not try out the free, fully functional trial of 3D Issue today.