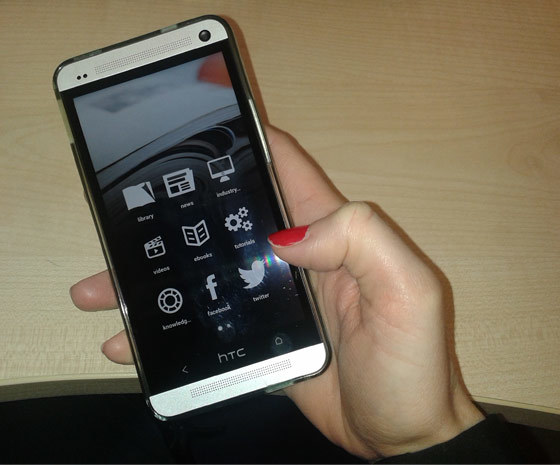 Allow me to introduce my own app to you today, and explain the steps I took to creating content for the app, populating it, branding it to suit the company profile, submitting to the app stores, and finally how it performs in use on various devices.
It's available to download for free from the Google Play and the App Stores. It's called the 3D Issue Guide app. It's a helpful companion for our customers, software users and tech fans.
The app has our digital user guides, eBooks and eMagazines created with the 3D Issue flipbook software. All the publications we created from our PDFs can be added to the app, great for publications to with lots of archived issues that readers may like to access easily.
Next we created a few Hubs and also added those to the app. A hub is a place to store all our online content in a neatly presented manner, it can showcase our blogs, rss feeds, social posts, tweets, video, email, trending news and more all in one place. The Hub auto updates as the original sources do so this is ideal for my app as I don't need to manage it, it takes care of itself and I can rest assured that my app is full of the newest news.
Description of our 3D Issue App:
The 3D Issue Guide is a great way to view everything you need to know to get started using the 3D Issue publishing suite.
– Stay up to date with the latest 3D Issue and digital publishing news
– Watch video tutorials on how to use our software applications
– Read in-depth tutorials
– Access our eBook library
– View FAQs and support queries from our knowledge base
– Access the latest news, pics and tweets shared by the 3D Issue team
To see how it performs on your device simply download for free from Google Play of App store.
We at 3D Issue can help you create an app just like ours. If you would like a branded app our app team are at hand to personalize your app for you to suit your company identity, fonts, color, themes and logo. They will then submit it for you to the app stores and get it approved. Our expert app team is dedicated to and constantly in tune with current industry standards.
The starting package for Apps is $99 which allows you to get your apps onto the app store with minimal cost.
If you have any questions or would like some more information simply contact info@3dissue.com.
By Audrey Henry