It emerged this week that The Saturday evening Post is to become available on iOS via an iPhone and iPad app, the publications is already available on Nook e-readers. The move follows similar transitions in the publishing industry by publishers to increasingly publish content to multiple devices.
On our 3dissue.com website, we find that mobile device usage (tablet / smartphone) has almost tripled in the last year alone as illustrated below:

When we examined the devices people are using to access content via our site, in terms of popularity, the Apple iPad stood out as a clear winner: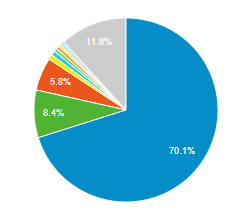 Forbes recently named mobile as number 4 in their "9 things journalists need to know about to keep their careers going". So in this blog post, we've done some data-gathering and figure that these 4 statistics may go the furthest in explaining the reasons behind such huge growth in mobile publishing strategies:
1. Mobile doesn't necessarily mean "on the go"
A recent article by Brandon Gaille reported on the go use of mobile devices are not as large as expected with the majority of use with mobile devices occurs at home, followed by usage at work. The study finds that less than a quarter of individuals in the US and an even smaller percentage worldwide access their mobile device while on the go suggesting that usage is widespread for longer periods at different times of the day than would be expected.

2.  As of January 2013:
– 26% of American adults own an e-reader
– 31% of American adults own a tablet
– 45% of American adults own a smartphone
– 87% of American adults own a cell phone ( Pew Research Center)
3. Mobile to rule Desktop
Morgan Stanley predict that mobile web will rule desktop by 2015, according to this excellent article on Mashable!
4. It's a sure thing
And perhaps most significantly, the global mobile market will grow from $3.4 billion in 2010, to $22 billion in 2016, according to this report by Nielsen.