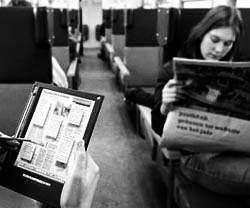 Great reports on advertising revenue today Monday February 6th from Future publishing plc. Numbers are indicating once again the relevance of the digital format in publishing and the opportunities it can bring. Future publishing are one of the largest Media Companies in the UK producing 150 magazines. The firm also provides an official publication for the 3 major gaming consoles – an area unfortunately where titles have been lost of late. Future's US arm is named Future US.
Results published from Future indicate that a "Tablet Christmas" has bolstered sales to the tune of a year on year increase totalling 24%. The average quarterly growth for Future stands at 16% for 2012. Importantly advertising revenue has been derived from a 54% margin of digital publications which is certainly enticing reading.
Increased advertising revenue is the best testament for digital publishing going forward and these statistics show good indicators for the UK. News from the US branch of the company however is not as positive overall.

In the US the company has also made losses over the last three years, digital advertising revenue accounts for a substantial 74%. Future publishing have been in the publishing business since 1985 they were the first innovators to begin selling magazines with sample software included on CD-ROM which in the early days of computing was a huge success. Future's first magazine was Amstrad Action.
Future plc.are also the people behind Total Film and Metal Hammer. For information on how to leverage your 3D Issue advertising check out this useful 3D Issue blog post on Google Analytics integration or contact us at info@3dissue.com
Image thanks to the nice folks here.
By 3D Issue