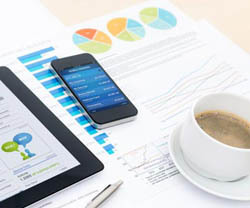 Mobile internet usage is projected to overtake desktop internet usage this year. It is crystal clear which direction the market is taking, businesses and companies simply have to be online and available through mobile channels. It is no longer sufficient to create a presence online and leave it at that. In today's smartphone driven world your approach has to center on the ever increasing number of connected devices which has grown at a meteoric rate in a relatively short time frame. One look around a café or bus, people walking along the street and you will see one common denominator, people are on their phones surfing the web, digesting content.
In order to remain relevant and ensure your content is getting the views it deserves, your content has to be mobile centric. Many companies have recognized this need and adjusted their approach accordingly, but worryingly many businesses have still to adapt to this, the most vital of components, in their marketing strategy. This will provide the basis of today's blog in which we will look at some of the ways that you can implement an effective mobile web marketing strategy.
1. Determine the goals of your mobile web marketing campaign
More than 50 percent of mobile searches lead to a purchase. (Source: Search Engine Land)
Your mobile web marketing campaign should not be planned independently from your overall marketing strategy; it should enjoy full integration with your overall marketing push. The end goal of your campaign should align with that of your mobile campaign; one should not be independent of the other. Determine exactly what it is you want to achieve through your mobile campaign. What is it you wish to accomplish? Do you want to drive more traffic to your site? Do you want to create and develop consumer interaction leading to increased feedback? Maybe you want to build upon consumer loyalty? Whatever your targets, have your goal/s clearly established from the start as this will shape your campaign.
2. Identify your target market
65% of mobile users said they used their mobile device to find a business to make an in-store purchase. (Source: Google.com)
Who is it that you are trying to connect with? Which demographic does your company already market to? Are you looking to continue to market to this segment or narrow/broaden your focus? How does the consumer behave on their journey to your content? What type of content drives this particular demographic towards engagement? How can you create content of a similar ilk to drive engagement with the consumer?

3. Mobile centricity
50% of mobile phone users use mobile as their primary Internet source. (Source: Digital Buzz)
One fairly obvious point, but one which surprisingly hasn't been embraced by all companies involved in digital media marketing is the ability to publish to any platform, this is absolutely crucial in this content anywhere, anytime world we inhabit. You can have the highest quality content in the world but if it isn't mobile centric then you are going to lose a sizeable portion of your potential traffic from the off.
The convenience of your audience being able to locate places, find information about things, receive promotions and offers, make contributions to organizations and causes all while on the go makes it imperative for you to be there when they are looking (and to make sure it works properly).
4. Make sure you can be found easily and your business is visible in all the places the consumer may be looking
Over 30 percent of traffic on the Internet is originated in a search query. Of that, more than half comes from users using a mobile device. (Source: Kissmetrics)
Most consumers, when searching for services or information will turn to search engines and social media as their first ports of call. It is vital that your site is easily found no matter which channel the consumer decides to use. SEO rankings and visibility is crucial in this regard,
3D Issue users SEO checklist:
1. Identify 5-6 top targeted keywords
2. Optimize the publication for keywords at the magazine design stage
3. Edit the SEO info in the converter window to contain your keywords in the page title, keywords and description fields
4. Name the publication to include a keyword
5. Once uploaded, add each page of the publication to your website's sitemap so each page can be found by Google spiders
6. Monitor analytics to ensure the best keywords
Extra tip: Do a bit of investigation using your website analytics. Take a look at the keywords used by your visitors to your site. There could be some phases that are typically high converters. Note these key terms and look at creating more content based on these words.
It is also a worthwhile experiment to carry out a search for your business, what do you find? Are there any factors that can be improved? Whatever you find the consumer will also find so it is crucial that you know the impression your online presence is having, and if necessary, take the steps required to rectify any issues connected with your online identity.
Are you looking for a platform from which to launch your mobile web marketing campaign?
Why not try out the free, fully functional trial of 3D Issue as the launch pad for your content and ensure your information reaches an increasingly mobile audience.