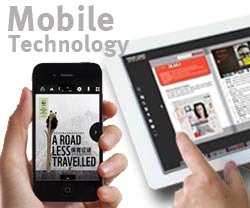 Mobile technology for many is now a way of life, most people will always have a tablet or smartphone to hand, such has been their influence and ascendancy within society as a whole. This is especially true for the 'millennials', this demographic of 18 – 34 year olds know no other way, viewing media on a mobile device is the way of the present and of the future, they have literally been born into the digital age, a survey by Immobi only serves to reaffirm this viewpoint with data which suggests that millennials spend on average two hours per day on mobile media surpassing TV, radio, magazine, tablet and desktop computer usage.
Another study by Pew Research Center states that, as of last year, almost half of all adults aged 33-44 in the US owned a tablet, more than any other age group. These statistics and studies copper fastens the theory that the world at large will continue to adopt and evolve with online content consumption, in fact future generations are poised to become even quicker adopters than the current generation if current trends continue. Quite simply the internet is here to stay and with it, the connected devices future generations will utilize to view it and the content it carries.
Publishers, as always, have to be aware of which way the market is progressing, they have to be on top of trends so they can pivot their approach to suit, to fail to do so could see them left behind and in real danger of becoming obsolete. In today's blog we will have a look at some of the possible mobile technology trends that publisher's should be keeping abreast of.
Mobile will take priority
Even though moves have already started towards this inevitable shift; expect to see publishers embrace this increasingly in the next year. Mobile traffic is estimated to cater for up to 40% of your total online traffic, this is a figure which is only expected to grow exponentially and as such demands respect and publishers will base their strategies and content around this. 4G is becoming widespread and with it the boundless new opportunities that this will entail.

The improvement in connection speeds will only exacerbate this necessity amongst publishers; mobile centricity will be the starting point as this is where the market is currently showing the largest adoption rate and is showing no signs of slowing down, if anything the opposite is true. Publishers simply have to adapt to the mobile trend, any content they produce along with their website will have to be optimized in order to take full advantage of monetization opportunities that will arise through this approach.
Mobile video and audio content are also expected to have a big year this year, especially video, faster connection speeds coupled with increased data limits will only accelerate this type of content sharing and the advertising opportunities that will doubtless follow
Publishers will create their own apps
The digital generation expects a lot more than a simple PDF with text to satisfy their content hungry needs, they demand more information than ever before and they want it all in the one accessible place. Expect to see more and more publishers adopt this approach as they try and ring fence as much traffic as they can. In 2013, between 56 and 82 billion apps were downloaded in the US alone according to a report by mobiThinking's report on global mobile usage, this gargantuan figure generated $20 – 25 billion in revenue. Expect this trend to prosper even further in the year ahead.
Responsive design will flourish
Although already gaining steady popularity in several corners of the publishing realm, expect to see responsive design become the standard mantra for publishers globally, the plethora of devices that demand it is increasing daily and responsive design could be the difference between a consumer digesting your content or simply moving onto a competitor who can offer this capability to them.
Wearable technology will influence the marketing strategies
Wearable technology is the new kid on the block compared to smartphones and tablets but we expect to see products like Google Glass and especially technology in the vein of smart watches take off this year. Again the improvement in connection speeds and data limits will have a major say in the approach by publishers and brands alike, as with every new technology publishers must be examining methods of integrating their content with the latest must have devices and smart watches and other similar wearable technology look to be the next logical step in this regard. A raft of advertising opportunities will accompany these new devices and publishers and advertisers have to be ready.
There are many other trends for publishers which could prove to garner similar traction as the ones we have listed above such as Native advertising leading to richer user engagement and Big Data becoming more prominent in publishers strategies but we feel that as a starting point at least that the above will be where the action will be centered.
What do you think?
Do you agree?
Have you other suggestions you would add to an already eclectic mix?
Why not leave us a comment and let us know!
Enhance your mobile technology through the use of 3D Issue, try the free fully functional trial today and be ready today for what awaits tomorrow.