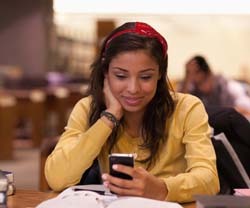 According to Aabaco Small Business 53% of college students have a smartphone and 47% have a feature phone which means that 100% of college students have a phone that can access the internet.
It comes as no surprise that students cannot part with their mobiles. So if they are part of your target market, now is a great time to engage with them through mobile marketing.
Why is mobile marketing for students so important?
1. Students spend their time looking at screens
Students are "addicted" to their phones, this devices have become essential in their lives, so much so that smartphones are the first thing 77% of students check in the morning, and the last thing 72% of them use before going to sleep .
This is perfect for marketers who want to engage with their audience and get noticed.
Although it is a great opportunity for businesses to market online, it also poses a challenge. Students have such a short attention span that you need to offer a content that will stand out and grab their attention within a few seconds. Easier said than done.
You have to think of a careful approach to win them over within that time gap. Research about your audience and what content they want to see on their feed and what would make them click onto your site. Try to offer them something that they haven't seen before. Surprise them, be original.
2. Commerce on mobiles is always increasing
Students are all turning to their mobiles for online shopping due to its convenience.
Thanks to online shopping, their purchases are just a click away rather than having to travel to the physical shop. They don't even have to leave their bed, it can all be done in the comfort of their own home at any time of the day.
And if that wasn't a good enough reason for you, here's another one that will convince you of why it is so important for businesses targeting students to get on the mobile market.
Students go online on the go all the time, riding a bus, a train or a car (93%), is a good enough reason to get online. So they are probably more likely to see your company and products on their screens than on a banner on the street. How many times have you seen a young boy or girl walking around with their eyes on their phones without even looking up? Exactly.
3. Social media is their second home
The main reason as to why students spend so much time on their phones is because of social networking.
Social networks have such a strong presence in their everyday lives that marketing through this channel is a must.
Marketers should take note of this, your social media posts can be used to drive traffic to your site and will help you build a good relationship with your targeted market.
Having all these 3 points into consideration, it makes sense to say that any business looking to get more customers among the students market has to be mobile friendly.
There are different ways to approach this and all of them are valid options. But, whether you decide to advertise on social media with paid campaign ads, to create an app that will offer all your information and notify them of special offers and news wherever they are, or to create a hub that combines mobile with what they love the most (social networks), always try to ensure that you keep your audience interested through high quality content.
If you want more information on different ways to reach the student market on mobile, send us an email to info@3dissue.com.
By Georgia Keys