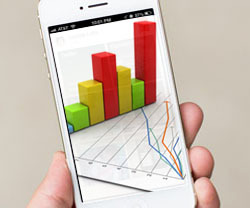 It is no secret that online connectivity has changed our lives irrevocably, connectivity has infiltrated nearly every aspect of our lives and in the main this has been to our advantage, many things we now take for granted would not be possible if it were not for the far reaching, inherent power that the internet wields within our lives. This has been further exasperated by the meteoric rise in mobile device usage, namely smartphones and tablets.
It can be hard for the consumer and businesses themselves to keep track with advancements in technology such is the velocity of change which takes place almost daily. It also makes the marketers role that bit harder as they not only have to be up to date with the latest moves within the industry, they also need to have data correlated that reflects these changes in approach and the effects it can have on the industry as a whole.
In today's blog we will delve into the mobile publishing statistics that every marketer should have to hand when dealing with this ever evolving and exciting industry.
The stats
• 91% of all people on earth have a mobile phone
• 56% of people own a smart phone
• 50% of mobile phone users, use mobile as their primary Internet source
• 80% of time on mobile is spent inside apps
• 72% of tablet owners purchase online from their tablets each week
Stats supplied courtesy of digital buzz blog who include a great infographic by Super Monitoring.

The same source also unearthed some very interesting statistics in relation to mobile publishing, there are some crackers in here that might raise a few eyebrows!
• 80% of smartphone users and 81% of tablet users use their devices in front of the television
• 44% of cell phone users have slept with their cell phone by their bed so they didn't miss a notification
• 28.85% of all emails are opened on mobile phones and 10.16% on tablets
• Mobile web adoption is growing 8 times faster than web adoption did in the 1990's and early 2000's
• Mobile based searches make up one quarter of all online searches
• 80% of consumers plan to conduct mobile commerce in the next 12 months
• 72% of tablet owners make purchases from their devices on a weekly basis
• By the end of last year there was expected to be more mobile device on earth than people
These statistics by readzblog further strengthen the mobile publishing stance and are very useful information.
• 75% of consumers want the sites they visit to be mobile-friendly
• 67% of consumers are more likely to buy if it is
• 50% of consumers will visit your site less if it isn't mobile-friendly
• A poor experience when trying to browse your site on a mobile device can hurt your company's reputation.
Well, there are some statistics for marketers to chew over and digest; you can't say we are not good to you!
What these statistics highlight is the depth of penetration that mobile devices now have on our lives from both a personal and business perspective, it is no exaggeration to say that mobile connectivity is and the power it now wields is at an all-time high and is expected to grow exponentially in the coming weeks, months and years ahead.
In December just past an emarketer confirmed what we already suspected was on the cards, the mobile advertising spending boom had arrived!
So what now?
It is crystal clear which way the market is progressing and publishers have to act to ensure they are not left behind; mobile devices can take the guise of tablets, smartphones and basically any device which you can access the web through. If smartphone penetration was deemed as quick out of the blocks then iPads and tablets have literally lapped them in terms of their adoption rates.
Publishers, if necessary have to adjust their approach and become involved in the digital media sphere; the world is in the midst of one of the biggest shifts in content consumption since the inception of the newspaper. Publisher's simply have to augment their existing operation by utilizing the transition to digital, their future may well depend on it.
Do you have a publication you would like to take online?
Why not try the fully functional trial of 3D issue today.