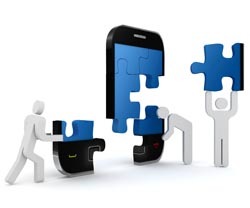 In the US or Canada you could be forgiven for calling Mobile Marketing 'Cell phone' marketing – at least to a point.
The development of the tablet device has widened the horizon for mobile marketing. What exactly is mobile marketing? Where did it emerge from and where might it be going?
Mobile marketing could be defined as the marketing channel utilised by any marketing collateral created for impact on a portable device. As outlined above Cell phone marketing was the first premise of this arena and whilst we now have more devices to leverage the core principals remain the same.
Marketing via cell phones at the most basic level began with SMS (Short Messaging Services) which were more popular in Europe than the US and Canada for some time, due partly to the popularity of Pagers amongst North Americans.
SMS advertising brought a new channel to marketers allowing them to (cautiously) target specific groups with very select campaigns. Still very effective today SMS continues as a useful opportunity. Drawbacks of SMS campaigns included the potential for higher un-subscription rates as they can be determined as very annoying.
Banner advertising on web sites was the launch pad for on-line advertising the irritating banner flashing and moving at the top of websites all over the world was poised to be the saviour for advertising executives everywhere – to no avail clicks dwindled as more sophisticated advertising methods came around like Google Ad Words.

Mail was an old favourite for marketing departments everywhere and its cousin e-mail marketing is now in effect a form of mobile marketing – as most email is read on mobile devices by the average consumer today. Effective marketing on mobile devices requires careful planning and delivery of e-mails via this channel. Targets do not care if the message is opened on a desktop or mobile and the message should be the same for both.
What for the future? Customized advertising based on reader behaviour will come to the fore. Our GPS enabled smart phones shall offer advertising based on location. Payments too will be via the handset with NFC technology – wonder why major telecommunication companies are offering Visa Debit card services today? ….purely so they can build it into your phone soon.
Whether your mobile marketing takes from the past (which is perfectly acceptable to do!) or looks bravely to the future one thing is for sure Marketing is now mobile and there are no signs that this trend shall ever turn back.
Image thanks to the nice folks here.