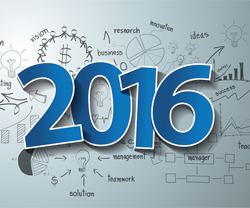 As 2015 draws to a close, we take a look at what some of the experts are predicting in the mobile marketing space. The last few years in particular have seen major developments in devices and software, so what areas are looking likely to shine?
Forbes reports a key trend for 2016 will see Video ads starting to dominate. "Google is finally getting on board with in-SERP video advertising. It's a sign that users are becoming more accepting of video ads online, and as that trend continues, expect to see more types of video ads popping up in more unexpected places. With Google's ownership of YouTube, the possibilities are virtually limitless."
Regarding devices, Forbes state that following the huge success of Mobile in 2015, 2016 will see Mobile dominate desktop.
"Apparently, you don't have to have an optimized desktop site in addition to a mobile version—according to Google, a mobile-only site with no desktop counterpart is perfectly acceptable. This alone won't be enough to drive down desktop traffic, but it's clear what side of the fence Google's on; they're banking on desktop traffic fading away, meaning the smart money rests on mobile-focused online marketing."
Kissmetrics believe we will be even more focused on the customer in 2016 saying Customer-Centric will become Customer-Obsessive.
"Few other things are as pivotal to sealing the deal as a device that the customer carries with them everywhere. Figuring out how to make that impact is something that companies are still working on, but you can bet it will be the customer, not the corporation, that powers how these decisions are made."
Content will still be king!
"B2C content marketing gained in popularity over 2015, and now over 92% of marketers are using at least some form of content marketing. The same is true for B2B marketers, who have also enthusiastically taken up content marketing." (Source: SmartInsights)
With experts in the field so confident about the potential of the mobile market, having an app for your business is now more important than ever. The best thing of it all, you don't need a developer or someone who knows how to code to have your own, an App building platform like 3D Issue Apps will help you create and customize your app from the very beginning.
By Hannah Kelly