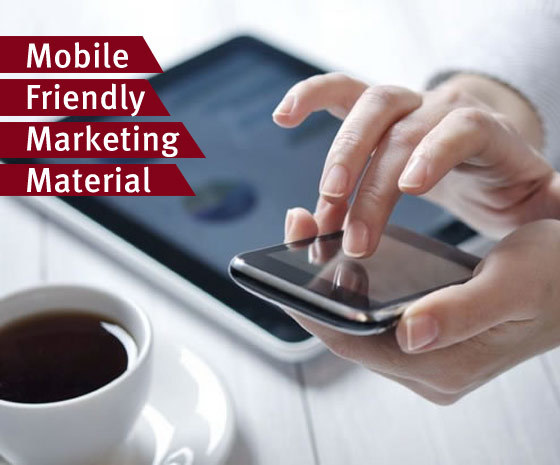 In today's blog, I will provide encouraging tips on how and why you should make your marketing material mobile friendly.
Scientists predict that in the future computers will become smarter than humans, perhaps as soon as 2040. We better keep up-to-date and on the right side of technology then!
Many of us have adapted to using rather complex computerized data and communications processing systems on our personal devices with ease. For website, app and mobile phone developers it is all about making the delivery of these complex systems a user-friendly experience, so the user is totally unaware of the complexity taking place at their fingertips. It can be likened to the way a builder covers over the rough edges, the pipes and wires to present a sleek finish to his clients. So to do developers present a polished, easy looking navigation facade to the public to cover the complex busy structure working hard underneath. People want to feel comfortable with technology. Great lengths are taken to ensure the user experience is as neat, straightforward and clear as possible. 3D Issue software is developed with this ethos at its heart.
The good news for marketers is that software has been developed to help them turn their content into responsive mobile friendly material their audience can access easily.
Digital publishing: PDF to digital publishing software has been developed with mobile in mind, not only can your readers open and enjoy the publications on their mobile devices, they also work with desktop, tablet and eReaders too. Try this easy option to convert PDF to mobile friendly publications in the software trial free for 14 days. See examples here of creations made with 3D Issue.
Content aggregation: Aggregate your real-time content from all your web sources into a Hub or App for your audience to stay in tune with your activities, promotions, news… Try out this great tool developed especially for digital marketers and content publishers that need to reach people with beautifully presented content on any device.
Publishing to apps: The Hubs and digital publications you create can populate your mobile apps along with your social activities, YouTube and Vimeo videos and email submitted content along with other exciting methods of content curation from trending news and Google alerts.
I hope today's blog has given you some insights into how you can easily market your content in a mobile-friendly manner. If you have any questions we can deliver you tailored answers to meet your inquiries, simply email info@3dissue.com and one of our expert team will get back to you.
By Audrey Henry